Weeds – a common frustration for all lawn keepers, they seem to show up unwanted season after season. Whether your grass is overrun by a weed invasion or you want to avoid the great battle before it begins, there is an easier way than individually pulling each dandelion – and in any case, in order to be gone for good, a weed needs to die at the root. If you want to stop a weed problem in its tracks, it is time to try a weed killer. Let this article guide you to a good weed killer that is effective, easy-to-use, and safe for your variety of grass. 
The number one way to stop the spread of weeds is to grow a thick lawn, so there is no room for other unwanted grasses to grow. However, even the thickest and healthiest of lawns are susceptible to weeds. We have made a list including 10 of the best weed killers for lawns, including preventative, organic, and everything in between. 
Here are three of the best weed killers for lawns, within three popular categories:
Will not harm your grass
Is cost effective
Kills over 200 types of broad leaf weeds
Fast-acting, visible results
Ready to use
Certified organic and pet safe
Very effective on crabgrass
Early treatment, lasts all season
Cost effective
Whether struggling to gain control over a clover invasion on your lawn, or looking to eliminate a few dandelions, this product will do the job.
If limiting toxins and harmful run-off is part of your lawn overhaul plan, this vinegar based weed and grass killer is the best out there.
Used by professionals, this herbicide is very effective at preventing the spread of grassy weeds.
Best Broad Leaf Killer
Will not harm your grass
Is cost effective
Kills over 200 types of broad leaf weeds
Whether struggling to gain control over a clover invasion on your lawn, or looking to eliminate a few dandelions, this product will do the job.
Best Organic Weed Killer
Fast-acting, visible results
Ready to use
Certified organic and pet safe
If limiting toxins and harmful run-off is part of your lawn overhaul plan, this vinegar based weed and grass killer is the best out there.
10 Best in Test Weed Killers
Now for a comparison of all 10 weed killers. This list is developed based on highly rated customer reviews. Many of these weed killers are specifically for killing broadleaf weeds, the most obvious, and unpopular weeds on your lawn. Others are developed to kill the more subtle, grass-like weeds. Depending on the type of grass, some weed killers can be dangerous to your lawn – so be sure to make the right choice.
A word of caution
Not only can some of these products be dangerous to your lawn – many include chemicals harmful to animals and humans. Consider a more natural approach if your lawn is used frequently by pets and children. Many organic herbicides simply contain a high concentration of vinegar, killing weeds by choking them out with an acidic environment they cannot survive in. Remember that these methods require spot treating the lawn, as the highly acidic solution will burn out lawn grass as well.
Other weed killers will be disappointingly ineffective if applied incorrectly. Some require a dry lawn while others need to soaked. Some weed killers are ready to use, while others are concentrates. It is imperative that you read and follow the label carefully the first time, as some of these products can be costly. The instructions are there for a reason – call the manufacturer if you have any questions or doubts.
Each weed killer on this list works well for its designated purpose, so read on in order to find the right match for both your lawn and the weeds you are fighting. 
---
Fast acting
Kills almost any broadleaf weed
Safe for use on lawn grass
This selective weed killer is out to get pesky broadleaf weeds. It can be used against over 200  varieties of weeds, but if the weed in question is a grass, this 2,4-D product is not the right choice. The only grass that it will affect is nutgrass. This is what makes this product so popular – it is virtually safe to spray on all lawns, giving total coverage and making the job easy.
2,4-D will kill:
Carpetweed, catnip, chicory, cocklebur, coffee weed, cornflower, croton, dandelion, nettles, wild onion-pepper weed, pigweed, plantains, wild radish, redstem, smartweed, thistle bull, thistle musk, velvetleaf, vervains, wild hemp mustards, water plantain, witchweed, wormwood, yellow rocket, and many others.
Warning: If the label does not say 'Southern Ag', 2,4-D can be harmful to St. Augustine grass.
Application
This weed killer comes as a mix-it-yourself concentrate. This gives you the ability to control the concentration if you do not see results and keeps the cost down, however, it is always recommended to read and follow the directions on the label. Two to three tablespoons will cover 1,000 square feet, so many reviewers say one bottle lasts them several seasons. Add a small amount of dish soap to work as a surfactant. Apply your 2,4-D in spring, on a day when the soil temperature is below 90 degrees. It is always a good idea to wait for a dry, windless day to spray. Use a nozzle with a fan spray for the best coverage. Remember to wear gloves and a mask when handling the weed killer.
---
Prevents and kills crabgrass
Selective herbicide, safe for lawn grass
Low cost
Another very popular selective weed killer, Tenacity Turf Herbicide will inhibit weeds and unwanted grasses from using photosynthesis, therefore causing them to simply wilt and die off. The label will tell you it targets crabgrass, clover, chickweed, and many more. This herbicide is selective and will not harm lawn grass. It works great as a pre-emergent (attacking the weeds before they become visible) as well as a post-emergent.
Tenacity Turf Herbicide will kill:
Crabgrass (large & smooth), barnyard grass, goosegrass, carpetweed, dandelion, chickweed, clover, henbit, purslane, thistle, foxtail, yellow nutsedge, wild carrot, nimble grass, bentgrass, and many others.
Be prepared: This herbicide is not a poison and therefore works differently than others. The results can take a few weeks, depending on the hardiness of the weed, and may require several applications.
Application
One small, 8-ounce bottle can be used for approximately 60 gallons of herbicide – of course, always read and follow the label when mixing weed killer. This herbicide will work best when mixed with a surfactant to ensure the solution can penetrate the waxy leaves of unwanted grass or leaves. Tenacity can be applied at seeding, before weeds emerge, or after emergence. As with most herbicides, the ground temperature should be no more than 90 degrees and the forecast should be dry, but the advantage is that Tenacity can be used at almost any stage of lawn growth. Reviewers agree that although it may take a few applications with a few weeks in between, the results are fantastic.
---
Certified Organic
Ready to use
Pet safe weed killer
Non-selective
When it comes to non-selective weed and grass killer, treatments like Round-up yield fast, chemically induced results, but can be harmful to the environment or anyone in contact with it. Green Gobbler provides a certified organic, toxin-free weed killer that is primarily made of vinegar (acetic acid), although four times stronger than regular kitchen vinegar. This enables it to eliminate all kinds of weed and grass within hours. It is popular because it works quickly and effectively by detrimentally increasing the pH of the soil, at the same as drying and choking out the plant.
It is very effective for a non-toxic solution, however, it is best utilized as a spot treatment along fences, on sidewalks or driveways, or other places where plants and grass shouldn't grow. This will kill or at least damage ALL grass and weeds, so it is only recommended for lawn use if you have a particularly difficult patch where you might want to reseed. After applying Green Gobbler and before reseeding, make sure to check the soil's pH and balance accordingly by watering.
Green Gobler will kill almost anything green and living, including crabgrass, oxalis, clover, chickweed, ivy, dandelions, and quackgrass.
Warning: Vinegar treatments are non-selective, and will kill all plant life. Be very careful how and where you apply!
Application
This formula is ready to use and requires no dilution. As Green Gobbler is a non-selective treatment, you need to apply carefully. If treating a lawn with a vinegar solution, consider painting or spraying each weed individually to ensure precision. Use pieces of cardboard to shield any plants you don't want to affect. If treating a larger area, feel free to use a regular herbicide trigger sprayer on a day without wind, to avoid it drifting into unwanted areas of your garden. Treat in full sun when the forecast is dry. 
Most importantly, be aware: this is an organic product, but the high acidity means it is still corrosive. Be careful not to get it on your skin or let children and pets be around the treated areas until after the first rainfall or thorough watering. 
---
Pre-emergent herbicide
Selective and safe for lawns
Weed killer safe for pets
Cost effective
If you want to nip pesky crabgrass and other weeds in the bud, prodiamine is a great solution. Not many herbicides can stop weeds from germinating, but this one will target and kill well before the weeds show up in your lawn. It kills selectively, so you don't need to worry about it killing your lawn. Professionals use this herbicide for large areas of landscape, golf courses, and turf. When used properly, it can be very effective, while leaving minimal environmental impact, and is even safe for pets once it has dried – at Quali-Pro's recommended dosage.
Quali-Pro Prodiamine 65 will prevent:
Annual bluegrass (Poa annua), henbit, knotweed, chickweed, spurge, foxtail, goosegrass, and many more.
Be aware: this herbicide is for pre-emergent grass and weeds, and will not be effective against post-emergent weeds. Use in combination with a post-emergent herbicide for complete results!
Application
A little goes a long way with Quali-Pro Prodiamine. Follow the instructions on the label to dilute the granular prodiamine with water, always using gloves and protective equipment when handling. Due to being temperature-sensitive, this herbicide can be sprayed on your lawn in late fall to early spring – as long as you are careful to have it sitting in the soil before the ground temperature reaches 55 degrees Fahrenheit in the spring. Avoid spraying your lawn in the winter, as dormant grass can be sensitive to herbicides. Spraying bi-annually will ensure that you catch all new growth cycles. 
---
Lawn food and weed killer in one
Selective
Ready to use
Money back guarantee
When looking for an easy, all-in-one lawn care solution for turfgrass, you may consider a weed and feed. A growth encouraging fertilizer helps grow a thicker lawn, which in turn helps naturally crowd out weeds. Weeds that fight back are killed off with a weed killer, although it may take a few weeks to see results. Scotts Weed and Feed will help promote a healthy, thicker lawn, while simultaneously hurting over 50 species of weeds. Although this does not include crabgrass, it does include many popular pesky weeds.
This weed and feed will get rid of:
Dollarweed, clover, dandelions, chickweed, pigweed, ground ivy, hawkweed, knotweed, mustard, plantain, sow thistle, spur weed, yarrow, wild carrot, yellow rocket plantain, pusley, red sorrel, and many more.
Warning: Always use the correct dosage! Remember, this is a mix of weed killer and fertilizer, not just one or the other. Over application will result in burnt patches.
Application
Scotts weed and feed makes it easy for you to follow directions. On the label, you will find instructions on how to spread the weed and feed on your specific variety of grass, and to what ratio. For all lawns, it is important to mow your lawn a few days before treating. Water the lawn generously before application. Moving steadily with the spreader will ensure an even, thorough job. Wait a day and then water again, gentler this time, to make sure the granules soak into the soil without runoff. Be very careful with letting kids or pets play on the lawn, as some of the ingredients are toxins.
---
Rain-fast after 20 minutes
Results as quickly as 3 hours
Non-selective
An alternative, fast-acting weed killer for all varieties of weed and grass is Spectracide. Spectracide is non-selective, so best for spot treatment, driveways, or reseeding projects, because it will kill any plant it comes in contact with. It works quicker than many other solutions on the market, allowing you to replant or replace lawn grass within a shorter window of time. Need a weed killer that will give you same-day results? This is your choice. The combination of chemicals allows this weed killer to cut a plant off at its source by stopping the plant from using photosynthesis and killing at the root. This product even has a money-back guarantee, which hopefully you won't need to take advantage of.
Spectracide's weed and grass killer, if dosed properly, will kill almost all forms of plant life.
Most effective for complete lawn renovation or driveways: will kill all varieties of grass and weed!
Application
Spectracide comes as a concentrate, and therefore needs to be mixed in a spraying tank according to the ratio on the label. By spraying with a precision sprayer, you can ensure that only the areas you treat will be affected – but be careful to do so on a still-weather day. The product is rainproof, so no need to worry about the season or weather when using, although it claims to be most effective in warmer temperatures. To protect surrounding plants that you don't want to kill, pieces of cardboard can be used to create a barrier. If you are in fact using Spectracide to kill your current lawn grass, wait at least seven days before reseeding. Spectracide does come at the top of the list because many reviewers say it requires multiple applications.
---
Selective weed killer
Targets common broadleaf weeds as well as crabgrass
Fast acting
Spectracide also carries a selective weed killer, advertised for use on lawns with weed problems. It kills over 470 types of weeds, including dandelions, clover, and difficult-to-kill crabgrass. Best used on an established turf lawn, this is a post-emergent weed killer, so it is not preventative, except for crabgrass, in which it claims to be pre-emergent. The label will state which varieties of lawn grass Weed Stop is suitable for – some warm climate types are not recommended for this product. Be patient when waiting for results! The Weed Stop is advertised as fast-acting, with results visible within a day – but in the case of crabgrass, reviewers say it takes time and maybe several applications. 
Weed Stop kills almost 500 types of weed, including yellow nutsedge, crabgrass, foxtail, chickweed, dandelions, and clover.
Warning! Not suitable for certain grass types, including St. Augustine. May require several applications.
Application
This weed killer comes granular, and requires no dilution – an 11 lb bag will cover up to 3,000 square feet with a lawn spreader. Apply any time during the growing season, spring through to early fall, but for best results, apply when the first weeds show signs of germination (or flower) and then a second time six to eight weeks later. Warm weather helps activate the weed killer, but be careful to apply before it gets to 90 degrees. Remember when spreading granules to wet the lawn thoroughly beforehand, and water lightly a day or so afterwards. Your pets and children can use the lawn again once it is dry.
---
High-performance pre-emergent
Withstands cold weather elements
Few applications
High performance pre-emergent that withstands cold weather elements!
If in search of a weed killer for grassy weeds such as crabgrass, chickweed, Poa Annua, and others, a pre-emergent is the way to go. Pre-emergent weed killers target weeds before they spread and form stronger, harder-to-kill root systems. Win the battle against grassy weeds before it begins, with just a single application – getting it right the first time will mean less waste on a somewhat costly product. Most reviews caution that timing is everything with this weed killer, so pay careful attention to
the lawn's environment
your zone
soil temperature
Scotts 'Crabgrass and Grassy Weed Preventer' prevents:
Goose grass, Crabgrass, Barnyard grass, Spurge, Foxtail, Poa annua, Henbit, Chickweed.
Tip: Make sure soil reads above 55 degrees Fahrenheit for a week before putting down the preventer! Germination needs to be active in order for this weed killer to work.
Application
Using a regular lawn spreader, Scotts Crabgrass and Grassy Weed Preventer is most effective against crabgrass when applied in the early spring. Pay careful attention to the soil temperature (you can always measure with a simpler meat thermometer stuck a few inches into the ground), and read the packaging to find out how early in the spring it should be applied. As a general rule, pre-emergents do best in soil that has been above 55 degrees Fahrenheit for a week. This single application should take care of pesky grassy weeds all season long. Apply again in the fall if your lawn is prone to winter weeds – the cold weather should not affect the performance of the preventer.
---
High concentrate – covers large areas
Selective weed killer, safe for most lawn grass
Fast-acting
Speed Zone is a strong and aggressive weed killer that will go after both broadleaf weeds and grassy weeds, while leaving your lawn unaffected. This product targets users in cooler climate regions, so be sure to double check the label and see if this weed killer is suitable for your grass. The main selling point for Speed Zone is after spreading, results work quickly and are visible.
Speed Zone Lawn Weed Killer will control: 
clover, ground ivy/creeping Charlie, dandelions and other tough lawn weeds.
Warning! Use of this product in temperatures higher than 80 degrees Fahrenheit may result in a burnt out lawn and dead grass.
Application
This weed killer is an investment for those who have a big lawn or large area to cover. Mix the concentrate according to the ratio indicated on the label, and spray with an industrial or backpack sprayer. After a few days, you can see the affected weeds die out – it may require several applications per season in order to catch them all. Be careful to spray in the spring or fall, as hot weather will boost the chemical reaction and may burn your lawn grass.
---
Selective weed killer, safe for lawn grasses
Rainproof after 1 hour
Covers up 5,000 square feet
Controls over 200 weeds, including crabgrass
Ortho Weed B Gon is a weed killer that targets the most common lawn weeds, without attacking your grass. This product is for post-emergent weeds, so it is best for use during the weeds' growing season. For example, if targeting dandelions, the spring would be the best time to spray, before the flowers go to seed. As this weed killer aims for the leaves of the weeds and not the soil, it is safer to plant or overseeding within days after spraying and seeing results.
Ortho Weed B Gon will control:
Crabgrass, dandelions, clover, thistle, and other common weeds.
It is safe for use on lawn grasses such as:
Bermudagrass, Buffalograss, Fescues, Kentucky Bluegrass, Perennial Ryegrass, and Zoysiagrass.
Warning: Always read the label and mix accordingly. Some weeds are more stubborn than others and may require several applications.
Application
Apply Ortho Weed B Gon with a regular hose sprayer if in concentrate form, or you can purchase a slightly less economic, ready-to-use formula. Either way, always follow the label and read directions thoroughly before applying. The weed killer is waterproof after 1 hour, so don't panic if it rains soon after application. You may need to spray several times per season in order to get each growth cycle, especially for stubborn lawn weeds such as crabgrass.
---
FAQ
Here we have gathered some of our most frequently asked questions when it comes to weed killer for lawns.
What do I look for when choosing a weed killer that won't damage my lawn?
Make sure the label reads 'selective' instead of 'non-selective'. This means the weed killing agents target weeds and leave grass alone. Always check the fine print to make sure your variety of grass is safe.
When is the best time to apply weed killer to my lawn?
The timing depends on what kind of weed killer or herbicide you are using. When putting down a pre-emergent, make sure to get it down early spring and early fall, to combat germination. Post-emergent weed killers should be applied when the weeds are most actively growing, likely spring and summer.
What weed killers are safe for pets?
All weed killers and herbicides have the potential to be harmful, and should never come in direct contact with you or your pets. Even organic, non-toxic solutions are highly acidic and could do damage. As a general rule, keep pets off your lawn for at least a day after treating – once dry, it should be safe again.
What is the best weed killer formula: spray or granules?
This all depends on what kind of weed you are trying to kill, and when. Sprays are common because they target weeds during their most active growth period (when they present themselves as an obvious problem). Granules are great for pre-emergent herbicides, so they can sit in the soil and become active as weeds germinate.
The Best Weed Killer for Your Lawn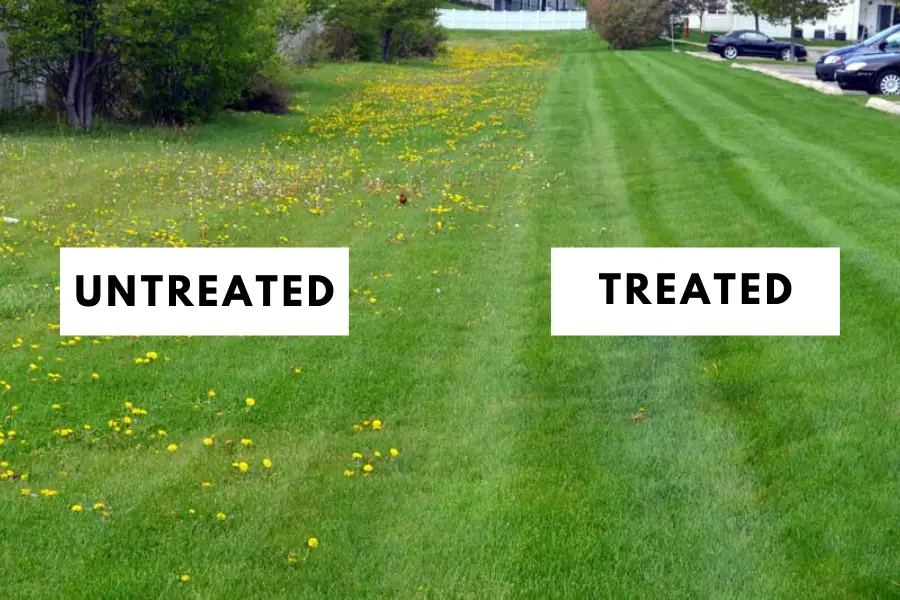 Now you have ten solid, tried-and-true options, tested and reviewed by ordinary lawn owners. If they can win the battle against weeds, so can you, and the best solution for you and your lawn is likely on this list. Struggling with dandelions year after year? Then go with number one, Southern Ag Amine 24-D Weed Killer. Is it crabgrass attacking your lawn? Then try a pre-emergent for grassy weeds, like number two, Tenacity Turf Herbicide. If simply struggling with unwanted grass and weeds on your patio or driveway, skip the selective weed killers. Remember to use caution and read the label very carefully before going ahead and treating your lawn with weed killer – and good luck!
We recommend products from companies like Amazon, which we also get a small commission from, to keep this website running. However, we want to stress that all of the products we recommend are tested, used by us, and 100% unbiased and true.