Mowing after overseeding is an essential step in the process of helping the new grass seedlings take root and grow. Many wonder when to mow after overseeding the lawn, and this is the process we'll take you through today.
The key to successful mowing is not to cut the grass too short. Doing so can damage the new grass seeds, preventing them from taking root. Instead, aim to cut the grass about an inch or two above ground level.
This guide will cover everything you need to know about mowing after overseeding, including when to cut grass after overseeding, how often to mow, is overseeding worth it, and what height to set your mower at.
We'll also share some expert tips on getting the most out of your newly seeded lawn.
Let's dive into more detail.
Preparation for Overseeding Your Lawn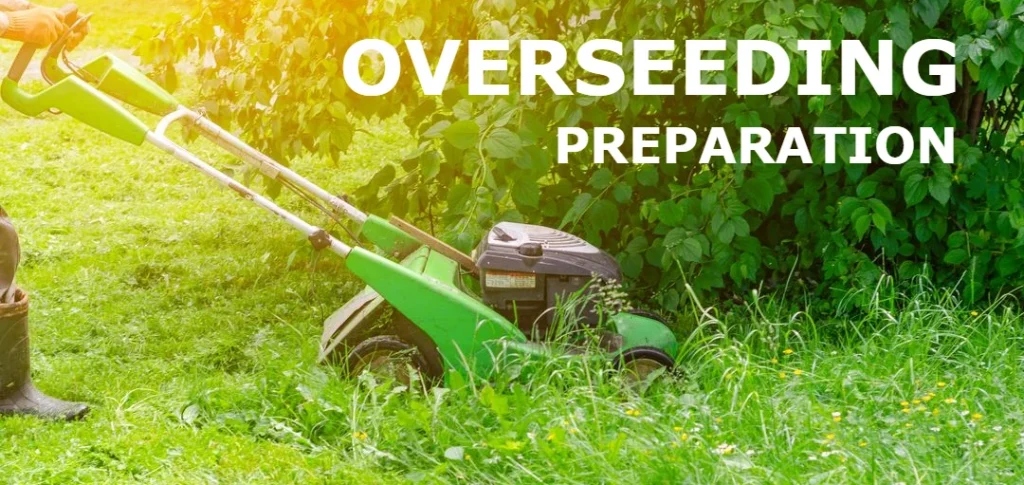 Any lawn enthusiast knows that a healthy, thick lawn is the key to a beautiful yard. Overseeding is a common practice used to achieve this goal. It involves planting grass seeds to increase the thickness of a lawn, improve its overall texture, and add variety.
Proper preparation is key to successful overseeding. That means taking the time to assess your lawn's needs and create a plan of action.
The first step is to determine what type of grass you have. Different types of grasses require different seeding rates and mowing heights. Overseeding bermudagrass might be different to St. Augustine grass. Once you know what grass you have, you can determine how much seed you need.
After determining what type of grass you have and have selected the right seed, it's important to take the time to prepare your lawn for seeding.
One of the most important steps in preparing your lawn is to remove any debris or thatch that could prevent the new grass seeds from taking root.
Grass cutting and aeration are two other important steps in preparing your lawn for overseeding.
Initial Grass Cutting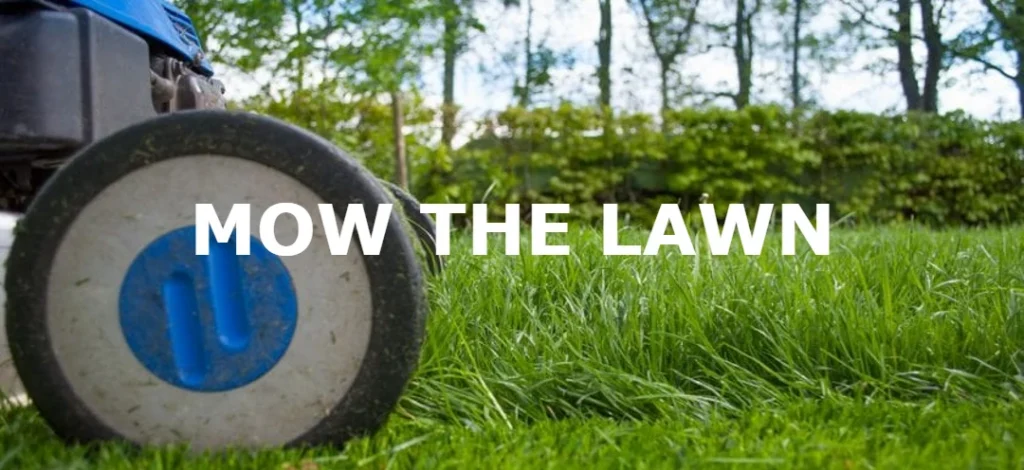 The first thing you need to do is mow your lawn. Grass cutting ensures that the new grass seeds have plenty of room to take root and grow. Also, be sure to set your mower at the correct height. Cutting the grass too short can damage the seedlings and prevent them from taking root.
Aerate for better results
Aeration is another important step where you're making tiny holes in the soil to enable air, moisture, and nutrients to enter the roots of your plants. Aeration also helps loosen up compacted soil so the new seeds can take hold.
Overseeding your lawn without aerating it first is not advised, as it can lead to the new grass seeds being compacted and unable to take root.
When to Mow After Overseeding
Now the query is how long to wait to mow after overseeding? The answer is simple:
You should wait at least 2 to 3 weeks after overseeding before mowing your grass. The first two weeks are a crucial time for the young grass to develop a strong root system. Time is everything when it comes to an overseeded lawn. It's important not to wait long to mow after overseeding, but you also don't want to cut the grass too soon.
Below is a timeline to ensure a healthy and vibrant lawn.
1st Day: Overseed the lawn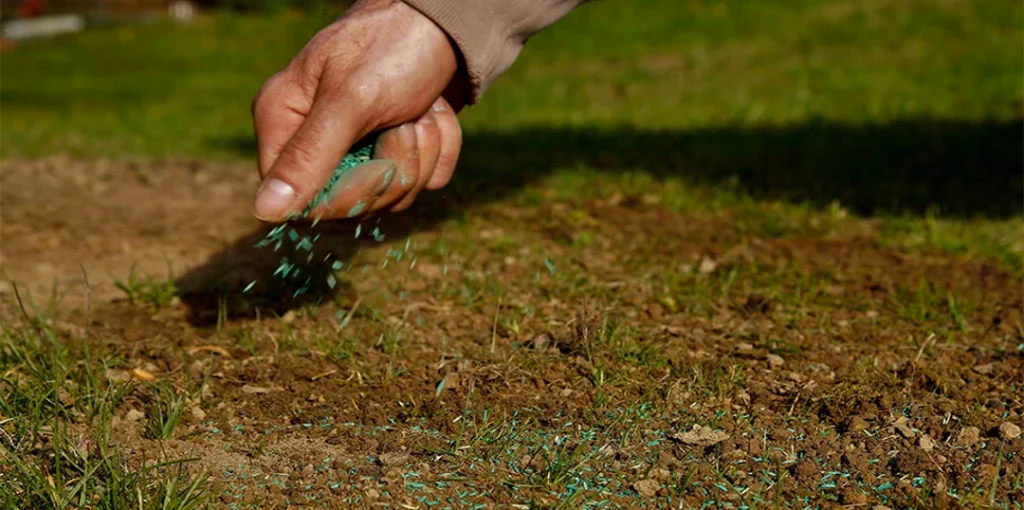 Overseeding is the act of adding fresh grass seed to an existing lawn in order to thicken it, improve its look, and make it more disease and insect resistant.
There are two ways to overseed a lawn: either by hand or with a machine. If you have a small lawn, overseeding by hand is the best way. You can scatter the seed by hand and then rake it in. Using a machine such as a slit seeder for larger lawns will save you a lot of time and effort.
If you've got a medium-sized lawn and want to save both your back and your time, we recommend spray on grass seed for its efficiency.
1st to 3rd day: Watering after overseeding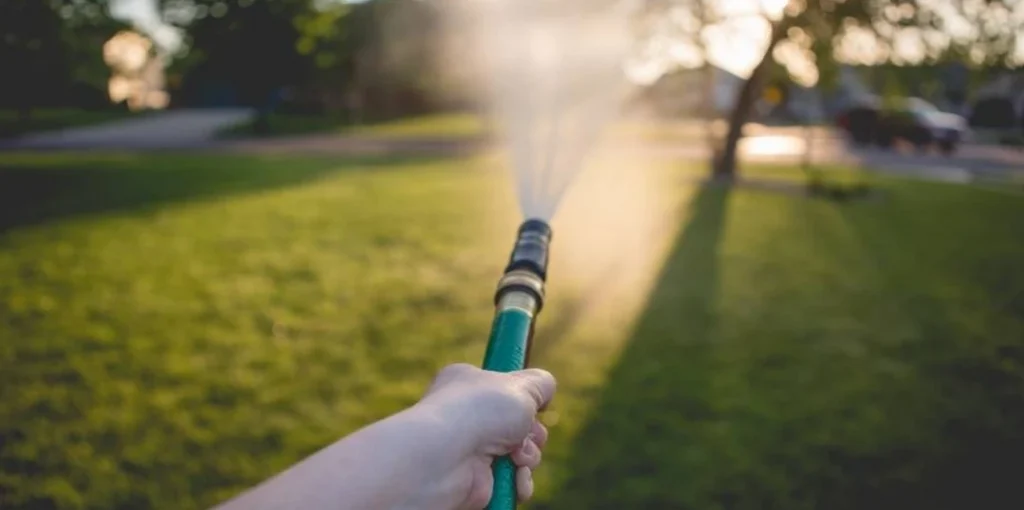 Watering after overseeding is one of the most important steps. The new grass seed needs to be covered with moist soil to germinate and grow. Water the lawn thoroughly, soak the soil down to a depth of at least 1/4 inches. Preferably water twice a day, but at least once a day is essential.
7th day to 10th: Mowing after overseeding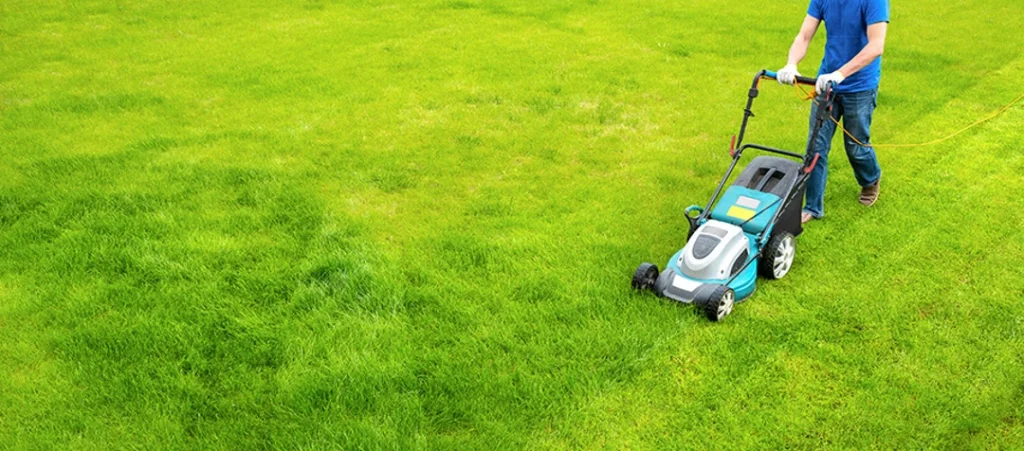 By the 7th day, the new grass should be well on its way to becoming strong and healthy plants. Once they reach a height of 2.5 to 4 inches, it's time for the first mow.
Set your lawn mower height to three inches and mow the entire lawn. The blades on your mower should be sharpened so as to not damage the new seedlings.
After mowing, it's important to water the lawn again. It will help the grass recover from being trimmed and prevent drying out. Composting the grass blades is also a good idea, as they will provide nutrients for the new plants.
All grasses grow in a different pace and this will also determine when you can start mowing. For example, if you're using a slow-growing grass such as bluegrass, you will most likely have to wait up to 20 days.
Height for different grasses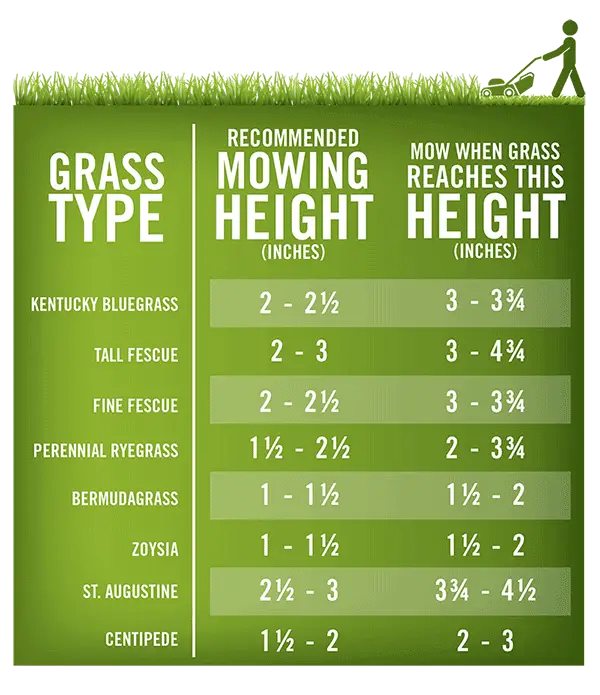 Different grasses have different ideal mowing heights.
If you overseed your lawn with a specific type of grass, research the ideal mowing height for that particular grass species.
It will ensure that you cut your lawn at the proper height, giving the new grass a chance to establish itself.
Mowing at the wrong height can damage your lawn and make it more susceptible to weeds and disease. Below is a list of common grasses for warm and cool climates and their ideal mowing heights.
Warm Season Grass
Warm-season grasses are types of grass that thrive in warm climates. They are typically green all year long, although they may go dormant during periods of extreme drought. Here is the mowing height recommendation for some common warm-season grasses:
Kikuyu Grass: 1 to 1-1/2 inches
Bermuda Grass: 1/2 to 2-1/2 inches
Centipede Grass: 1 to 2-1/2 inches
Zoysia Grass: 1/2 to 3 inches
St. Augustine Grass: 1 to 3 inches
Buffalo Grass: 1-1/2 to 4 inches
Bahia Grass: 2-1/2 to 4 inches
Cool-Season Grasses
The best time to grow cool-season grasses is during the cool winter months. They are typically green during the spring and autumn, but they may turn brown during the summer months. It is recommended that you mow cool-season grasses to the following height ranges:
Perennial Ryegrass: 3/4 to 2-1/2 inches
Kentucky bluegrass: 3/4 to 3-1/2 inches
Fine fescue and Tall Fescue: 1-1/2 to 4 inches
Tips or Things To Avoid When Cutting After OverSeeding before and after
Sometimes people new to overseeding their lawns make some mistakes when it comes to mowing. An accurate time plan and proper maintenance are critical to having a healthy and good-looking lawn. Here are some tips to help you avoid any issues.
Using Inappropriate Equipment To Cut Grass Blades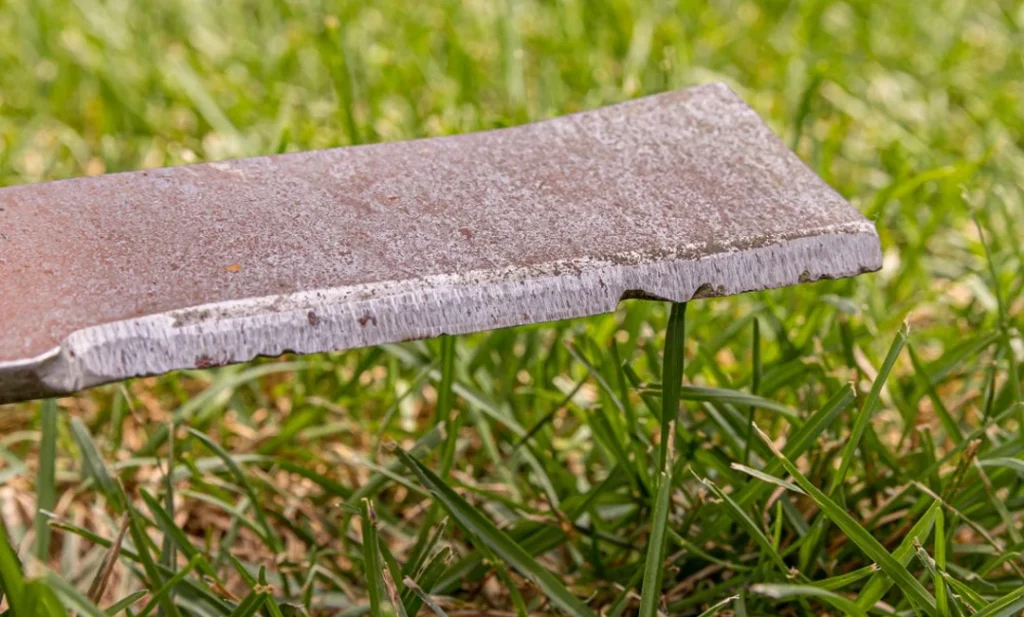 Using the incorrect mower is one of the most common blunders that gardeners make. A rotary mower with small wheels and a dull blade will scalp your seedlings. It will damage or kill the grass plants causing all your hard work to waste. Be sure to use a sharp blade slit seeder or reel mower.
Correct Machine Usage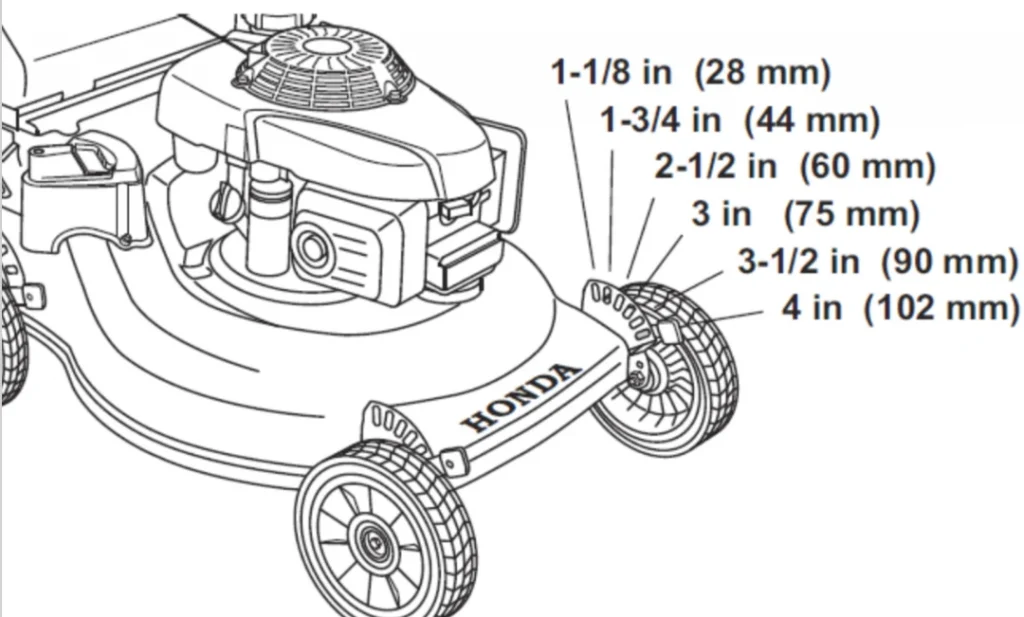 It is also important to know how to use the machine properly. Read the manufacturer's instructions carefully. Be sure to set the blade height correctly. If you are unsure, it is always better to err on the side of caution and cut grass a little higher rather than too low.
Do not allow the seeder to bounce while in use, as this will also damage the seedlings.
Aerate and Overseed at the correct time of the year

The accurate time to aerate and overseed your lawn depends on what type of grass you are using. Grass species that grow during the warmer months should be aerated and overseeded in late spring or early summer. For cool-season grasses, planting should be done in the early fall or spring.
Don't aerate if the soil is dry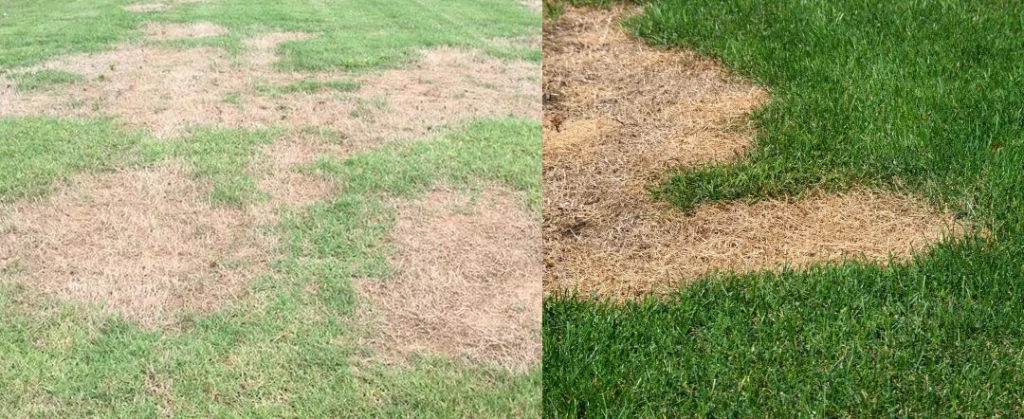 If you're thinking about aerating your lawn, make sure the soil is moist. Aerating when the ground is dry will not be as effective and can do more harm than good. Also, when the soil is too dry, it needs more manual labor to perform well enough for aeration.
Don't Mow Too Soon
Overseeding your lawn is a terrific method to keep it looking lush and green. However, it would be best to be careful not to mow soon after overseeding. If you mow too soon, you'll end up damaging it. Avoid mowing until the new grass has had a chance to grow a bit. Once it's about 3-4 inches tall, you can start mowing.
Just set your mower blade to a proper setting so you don't damage the new grass.
Overseeding aftercare FAQ
Conclusion:
Now you have all the information you need to get started on your lawn. Mowing using the right equipment and settings is critical to success. Also, make sure to aerate and overseed at the right time of year for your specific grass type. Watering and fertilizing also play a role in having a healthy lawn. Thanks for reading!