Bermuda grass is a popular variety of southern lawn grass for good reason. When properly taken care of, this grass grows a thick, dark green lawn. However, Bermuda grass requires a lot of attention and a specific fertilization routine. Fertilizing Bermuda grass is very satisfying because it will react to the right fertilizer within days and the results will keep on going.
The key to using the right type of fertilizer for lawn grass is in the formula. The best fertilizer for Bermuda grass will be high in Nitrogen, slow-release, and granular. The best time to fertilize is mid-spring, mid-summer, and early fall.
NPK Ratios
Notice that the majority of granular fertilizers that are best for Bermuda grass will have an NPK ratio of about 3-1-2 (or high-low-medium). Now if the fertilizer is water-soluble or liquid, the ratio of nitrogen is often much higher, in order to show quicker results and account for product lost too deep in the soil. Almost all fertilizers have three numbers on the packaging, indicating the ratio of Nitrogen (N), Phosphorus (P), and Potassium (K). The number represents the percentage of the nutrient in the fertilizer; for example, a bag that says 14-6-4 will mean this fertilizer is 14% Nitrogen, 6% Phosphorus, and 2% Potassium. The remaining 78% is added material that makes the fertilizer easier to spread and sometimes includes extra macronutrients to benefit lawn soil. Each of the three nutrients in the ratio serves a different purpose in healthy plant growth:
Nitrogen (N): Aids in the production of lush, green leaves.
Phosphorus (P): Stimulates roots and helps development.
Potassium (K): Protects against disease.
This is why, on a well-established lawn of Bermuda grass, a nitrogen-rich fertilizer is best. If the lawn has been recently seeded, a fertilizer ratio higher in phosphorus (the middle number) would be better suited. Too much nitrogen on a newly seeded lawn puts new growth at risk for burning out.
This article will outline 10 of the very best fertilizers for a Bermuda grass lawn as of 2020, based on user reviews and ratings. These fertilizers are tried and true – it is up to you to decide how much you want to invest, the form of fertilizer, and the purpose it serves for your lawn. If looking for a quick answer, here are the top three solutions. ⬇
Top three (natural solution, slow-release, fast-acting)
All Natural Fertilizer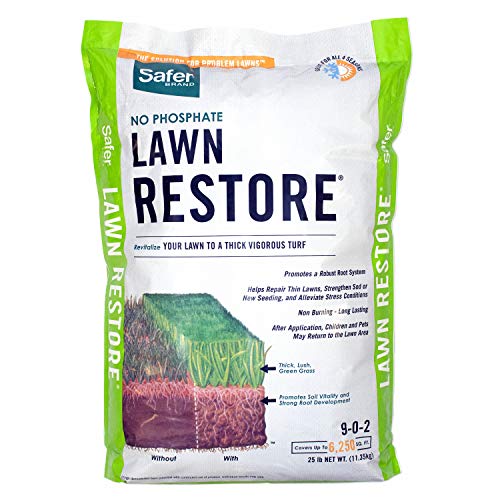 Fast Acting Fertilizer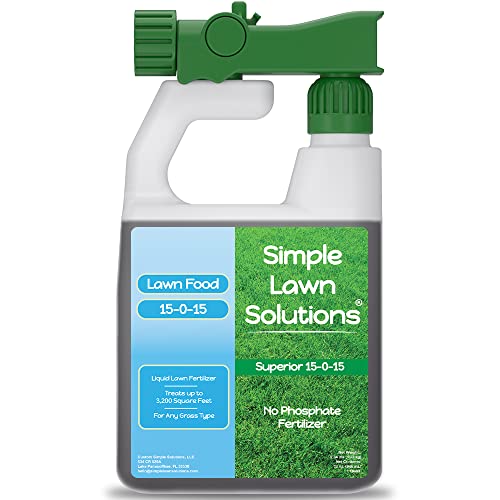 High in Nitrogen
Contains added macronutrients to feed the soil
Safe for pets and kids
Great value for money
Easy to use, no sprayer needed
Ideal NPK balance for Bermuda grass
All Natural Fertilizer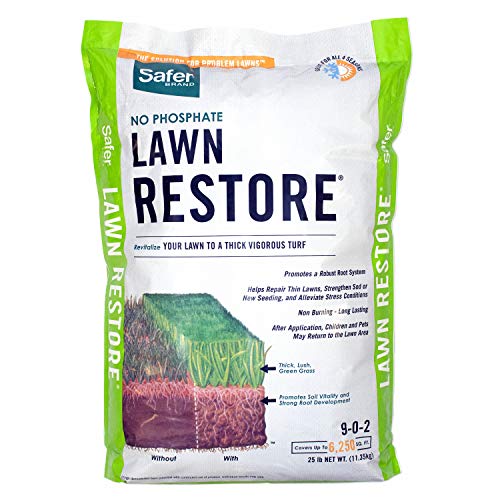 High in Nitrogen
Contains added macronutrients to feed the soil
Safe for pets and kids
Fast Acting Fertilizer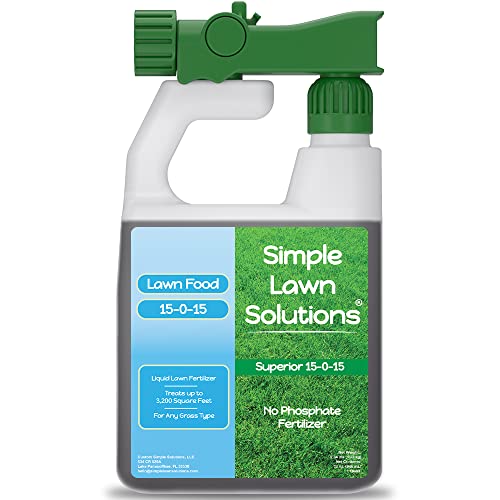 Great value for money
Easy to use, no sprayer needed
Ideal NPK balance for Bermuda grass
1. Advanced Lawn Food Natural Liquid Fertilizer
Contains natural ingredients, including seaweed and fish
Ready to use, spray nozzle included
Quick results
With an NPK ratio of 16-4-8, this fertilizer is great for a well-established lawn of Bermuda grass. This fertilizer's claim to fame is feeding your lawn grass an optimal balance of nutrients, without any of the harsh chemicals. This natural formula contains vitamin-rich, sea-based macronutrients such as seaweed and fish to feed your Bermuda grass lawn. This 32 oz bottle will cover up to 3200 square feet.
One great benefit of this product is it is ready to use, even if you don't have fancy spraying equipment at home. The nozzle on the bottle is designed to hook up with any standard garden hose, so you can spray your lawn directly from the package, while it self-dilutes. Read the instructions carefully and make sure the hose is properly connected. 
Spray your lawn by hand with even, consistent passes – feel free to apply as often as monthly. Results will show quickly, but because this a fast-acting liquid solution, it won't last all season long. Fertilize spring through summer, reviewers say they have had success with this product even in hot weather.
2. Milorganite 0636 Organic Nitrogen Fertilizer
Famously used on golf courses
Organic, non-synthetic
Slow-release
This organic fertilizer by Milorganite is nitrogen-rich, making it great for Bermuda grass lawns. The NPK ratio is 6-4-0, meaning there is no Potassium, so it should be avoided in times or areas of drought. It also means the concentration of Nitrogen is relatively low and therefore has no chance of burning your lawn. It should result in a darker green lawn that is less thirsty and easier to mow, but because it is slow release, the results may take some time. Slow-release is overall more economical and better for the lawn soil.
When looking to apply a granular, slow-release fertilizer, you will need a lawn spreader. Check the instructions on the bag in order to know what setting your spreader should be at when laying down fertilizer. If there is no rain in the forecast, you may need to water a day or so after putting down. Apply just once in spring, summer, and fall respectively.
A few reviews do mention that this product has a smell, but that it dissipates quickly. When purchasing an organic fertilizer, this is only a good sign. This fertilizer can also be used to repel deer and rabbits.
3. Greenview Fairway Formula Lawn Fertilizer
High in nitrogen for a dark green lawn
Fast acting with extended time release
Works well on all types of lawn grass, including Bermuda
No smell
This fertilizer is not all-natural like the previous two, but boasts amazing results. If your focus is to get a darker, greener Bermuda grass that will last, GreenView will get it done. You will notice the ratio is very high in Nitrogen, with no Phosphorus – so make sure your lawn is well established before trying this product. Much of the Nitrogen in this fertilizer is slow release, in order to keep the soil nitrogen rich for up to 12 weeks.
Read the label in order to find the right setting for your lawn spreader. Always handle with care and use gloves. Spread starting at the edges and walking your way in a circle towards the middle. 
Because this fertilizer is so high in Nitrogen, it is a good idea to apply it to your Bermuda grass in the spring, when temperatures are between 65 and 90 degrees. Avoid applying right before a heavy rainfall is forecasted, and be aware of any harmful runoff. Remember that this fertilizer also has a money-back guarantee!
4. Miracle-Gro Water Soluble Lawn Food
Fast acting
Water soluble solution
For all grass types
High in nitrogen
This lawn fertilizer by Miracle-Gro is a good choice for Bermuda grass because it is high in nitrogen and iron, therefore putting focus on achieving a dark green color. Bermuda grass will show quick results (within days) and thrive when fed with this fertilizer, which has a NPK ratio of 30-0-6. Make sure to use it on an established lawn, as the high amount of nitrogen could burn newly seeded lawns. One 5 lb package will cover up to 7,200. 
Many reviewers agree this solution is very user friendly. Within a 5 lb package, there are four feeder packets, pre-measured for use with a Miracle-Gro Garden Feeder that attaches to your garden hose. Each packet covers about 1000 square feet, which takes about 12 minutes with a steady, sweeping motion. If looking to mix the solution yourself and spray without a garden feeder, use one tablespoon per gallon of water.
Apply the lawn food during spring, summer, and fall, or whenever grass is growing, every to 2 to 3 weeks. This solution is fast acting, not slow release, so it needs to be applied more often. Make sure to keep the lawn well watered following application. Reviewers say this solution works well even in hot weather.
5. Scotts Turf Builder WinterGuard Fall Lawn Food
Specially formulated for use in fall
Feeds lawn roots to improve growth next spring
Improves ability to absorb water
Scotts Fall Lawn Food is a great granular fertilizer for fall lawn care. This lawn food acts as a guard against harsh winter conditions as well as repairing summer damage. The fall is a great time to spread fertilizer and let the nutrients slowly do their work while your grass goes dormant. This solution helps grow the grass roots deeper, and allows the grass to absorb more water at one time, so less watering is needed next season. 
This a granular fertilizer, so it is best to apply with a lawn spreader. Choose a calm day in early fall, then reapply later in fall (as long as it hasn't reached freezing yet). Lightly water after application to help it set.
Make sure to use this fertilizer on a well established lawn. As the NPK ratio is 32-0-10, it is unsafe for new grass. This combination is also known to be most beneficial for cool season turf, so depending on your variety of Bermuda, this fertilizer may be more or less beneficial. If your grass goes dormant in the cooler months, it won't have much impact.
6.  Ringer Lawn Restore II Organic Lawn Fertilizer
No bio-solids or burning chemicals
Suitable for all lawn grass
Encourages healthy soil and root system that lasts
Another great organic fertilizer for Bermuda grass lawns is Ringer Lawn Restore. This fertilizer has an NPK of 10-0-6, for a greener lawn with a healthier root development. The effects are made to last longer than synthetic fertilizers, because of the organic material fed to the soil. This solution will benefit all types of lawn grass in all growing seasons. One 25 lb bag covers about 5000 square feet. 
Ringers granular fertilizer is very easy to apply with a lawn spreader of any kind. Follow the instructions on the label to see what setting is best for the area you would like to cover. Wet down after spreading, excessively in warmer weather, and get ready to see results in just a few days. Reviewers say this is an organic solution with minimal smell.
This fertilizer doesn't need to be reapplied as often as liquid solutions. Ringers recommends once every 8 weeks during your lawn's growing season – or approximately once in the spring, once in the summer, and once in the fall.
7. Urban Farm Fertilizers Liquid Lawn Fertilizer
Great value for money
Contains organic materials for root health
Fast acting formula
This water soluble fertilizer is a popular choice among bermuda grass lawn owners. With a NPK ratio of 13-1-2, it is high in nitrogen to promote a lush, dark green lawn, with results as quick as overnight. This formula also contains organic materials such as bat guano, humic acid, kelp, and worm casts to help nourish the roots of your grass. One gallon of super concentrate will dilute into 256 gallons of fertilizer, giving you up to 80,000 square feet of coverage when spraying according to directions. 
Both hose-end spraying and boom spraying are recommended methods of application. If you need to cover a larger area, use a tow-behind tank. The highly concentrated formula requires just half an ounce per gallon. Refrain from watering soon after and wait for a day without rain in the forecast. Apply generously throughout the growing season.
Be aware that many reviewers warn this fertilizer needs multiple applications, and some recommend increasing the dosage slightly. Urban Farm's fertilizer is fast acting, but results will dissipate and therefore they recommend fertilizing at least biweekly. 
8. Scotts Turf Builder Lawn Food
Encourages new green growth while defending and strengthening
High in nitrogen
Improves lawn's ability to absorb water
both fast acting and slow release
This lawn food by Scotts is designed to grow your lawn thicker, greener, and stronger against heat and drought by improving your lawn's ability to absorb moisture. It is a great option for all kinds of turf, including Bermuda, that are looking patchy and pale. This fertilizer has a NPK ratio of 32-0-4, meaning it is very high in nitrogen, the most important nutrient for a lusher, greener lawn. A thicker lawn is a great defense against pests and helps to crowd out weeds.
As a granular fertilizer, this Scotts Lawn Food shows both fast results and contains slow-release particles for a longer lasting solution than many of the liquid fertilizers. The very fine texture makes it quick to absorb. Use a regular lawn spreader to apply according to the directions on the package. Due to the high percentage of nitrogen, be sure not to apply in excessively hot weather, and water in lightly. Apply anytime throughout the growing seasons once every 6-8 weeks.
Be careful to always sweep any excess fertilizer that may have spilled onto sidewalks or patios back into the lawn.
9. Doc's Super Juice All in One Soluble Supplement Lawn Fertilizer
NPK ratio of 7-1-2 (or 14-2-4 at a higher concentration)
With humic acid and sea kelp
Water soluble
Get an evenly green, healthy lawn of Bermuda grass with Doc's soluble fertilizer, which is suitable for all lawns – although, Doc's brand is known for specializing in products for Bermuda grass. Choose the concentration yourself in order to see more intense results, or use a lighter dosage as a supplement to a granular fertilizer routine. It is also a good idea to use a lower concentration during the warmest months of the growing season, and a stronger solution in the fall. 
This fertilizer comes as a granular, soluble solution, with directions on the label on how to mix for the ratio you want to achieve. Mix the granules with hot water and strain. Reviews say this is best applied with a hose-end hand sprayer that isn't too fine, so the particles do not clog. Take your time when spraying and do so evenly. One bag is advertised to cover one acre, but we can assume that is at the lowest concentration. Avoid applying if there is heavy rainfall in the forecast, as this will wash the fertilizer away.
The option to add blue dye is maybe a good idea if you are insecure about making sure the fertilizer is coming out of your sprayer properly, but many reviews agree you can omit the dye. Reviewers also seem to conclude this fertilizer is a rather pricey option.
10. The Andersons Starter Turf Fertilizer
Formulated for newly seeded lawns
Phosphorus correction for root stimulation
Boosts and greens new lawn growth
Lastly, a great starter turf fertilizer for all grass types comes from a trusted brand among professionals. The Andersons have developed a fertilizer with an NPK ratio of 18-24-12 in order to promote and protect new growth. It is so important when fertilizing a newly seeded lawn to give it the nutrients it needs to establish roots and promote seedling development. Like the other fertilizers, this will also give your Bermuda grass that healthy, dark green color, by using both a slow-release nitrogen and a fast-acting one. One of these 50 lb bags will cover 12,500 square feet.
This fertilizer for new lawns comes granular and can be put down with a lawn spreader according to the directions on the label. The consistent sizing of the granules ensures an even application. Wait until mid spring, or when the soil temperature is at least 55 degrees, before laying down and then water in lightly. Be careful not to apply before heavy rains or water too much because the high level of phosphorus can create dangerous runoff.
You can, of course, continue to use this fertilizer even after your lawn is well established, but it will be most effective on newly sodded or seeded lawns. 
Tips for Fertilizing Bermuda Grass Lawns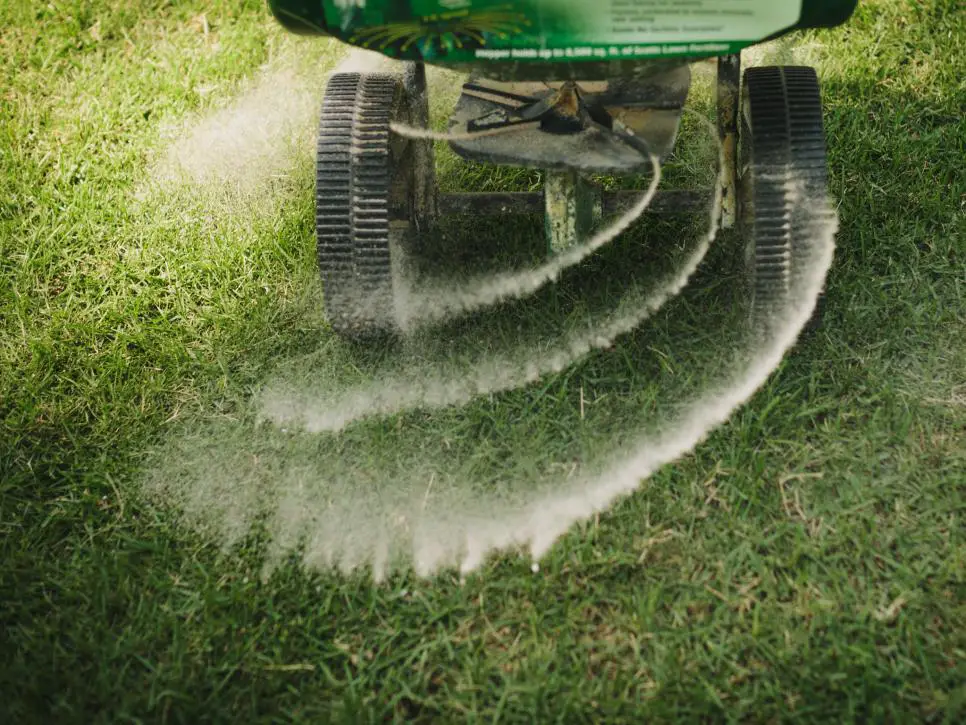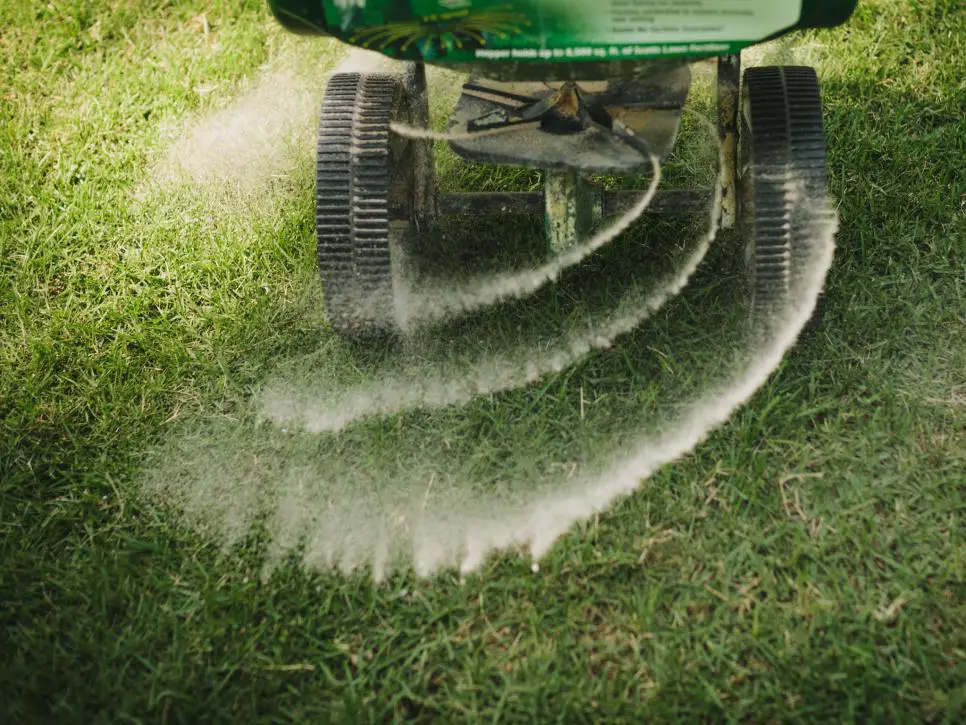 When to Fertilize Bermuda Grass?
Time of Year
There is a general rule of thumb as to what time of year is best to fertilize lawn grass. Fertilizer is best applied during the growing season, not when your grass is dormant over winter (or if in drought-sensitive areas, midsummer). Fertilizing dormant grass will only feed the weeds that are strong enough to keep growing, such as crabgrass. The only time you should feed your Bermuda grass outside of its growing season is right before spring hits – and even then, only with a slow-release fertilizer. Otherwise fertilize throughout spring, summer, and fall as needed.
Weather Condition
As for the weather, that all depends on your choice of fertilizer. In general, you do not want to fertilize during or before a heavy rainfall, as it will wash most of the fertilizer away before it can absorb into the soil, resulting in wasted money and effort. The runoff from excess amounts of water on a newly fertilized lawn can also be dangerous to the environment, so be aware of that. Otherwise it is recommended to apply fertilizer when soil temperature is between 60 and 85 degrees Fahrenheit, a temperature that will warmly welcome and encourage new nutrients, but not hot enough to over develop the nitrogen and potentially burn your Bermuda grass. Resist applying fertilizer to drought-stressed Bermuda grass.
How Frequent
Many lawn owners wonder how often to fertilize and ask: Can I fertilize my Bermuda Grass too much? The answer is of course yes, to a degree – too much of a good thing can be a bad thing. When applied in high doses, nitrogen can burn your lawn. However, many of the fast-acting fertilizers dissipate quickly and can be applied as often as weekly. You are more likely to do harm to your Bermuda grass if you use a high dose of fertilizer, than if you just fertilize more often. Always follow directions on the label for dilution of a concentrate, and fertilize as often as instructed. 
Fertilization in Different Zones 
Bermuda grass is most commonly used as a warm-season grass, because it is drought resistant, hardy, and has low disease potential. However, not all southern climates are the same. Be aware that although there is many giving solid advice on the internet, not all of them live in your neighborhood. Different zones often require slightly different care, and late March in Texas may look very different from late March in Georgia. As a general rule, wait until your lawn is about 50% green after dormancy or measure the soil temperature before assuming it is safe to fertilize Bermuda grass (both in spring and fall). This zone map will give you a good idea of when to fertilize Bermuda grass in your state or zone.
How to Apply Fertilizer to Bermuda Grass
The most common dilemma lawn owners find themselves in is not knowing how much fertilizer is needed to cover their yard. Bermuda grass responds best to nitrogen-rich fertilizers, so it is best to calculate how much fertilizer to use based on the amount of nitrogen. As a rule, you can calculate in this way:
Take the percentage of nitrogen (the first number in the NPK ratio) and multiply it by the bag's weight. For example, a 10 lb bag of 12-4-6 will have 1.2 lbs of nitrogen.
Now, divide this amount by 1.5 and multiply by 1,000 square feet (the golden rule for Bermuda grass) to find out how many square feet the bag will cover. For example, your 10lb bag will cover 800 square feet.
For the most accuracy and the least amount of waste, calculate the area of your lawn.
The exact method of application depends on the type of fertilizer. Granular fertilizers should be applied with a lawn spreader or even by a gloved hand, for smaller areas. Make sure not to double back on any spots and walk with a steady, even pace. Water in very lightly to help the soil absorb the granules. Water-soluble or liquid concentrated fertilizers are easiest to apply with a hand-held sprayer that attaches to your garden hose. Spray evenly and be sure to cover every blade of grass. Always read the label before applying and make sure you have the necessary equipment.
Safety
Although organic fertilizers are friendlier to the environment, they still contain chemical combinations at levels dangerous to us and our pets when ingested. Use caution and always read the label before applying, so you know what to do in the event of an accident. Avoid creating unnecessary runoff by watering excessively after putting down your fertilizer and make sure the ingredients are in compliance with local restrictions. Always sweep any excess fertilizer pellets that may have fallen onto driveways or sidewalks back into the lawn.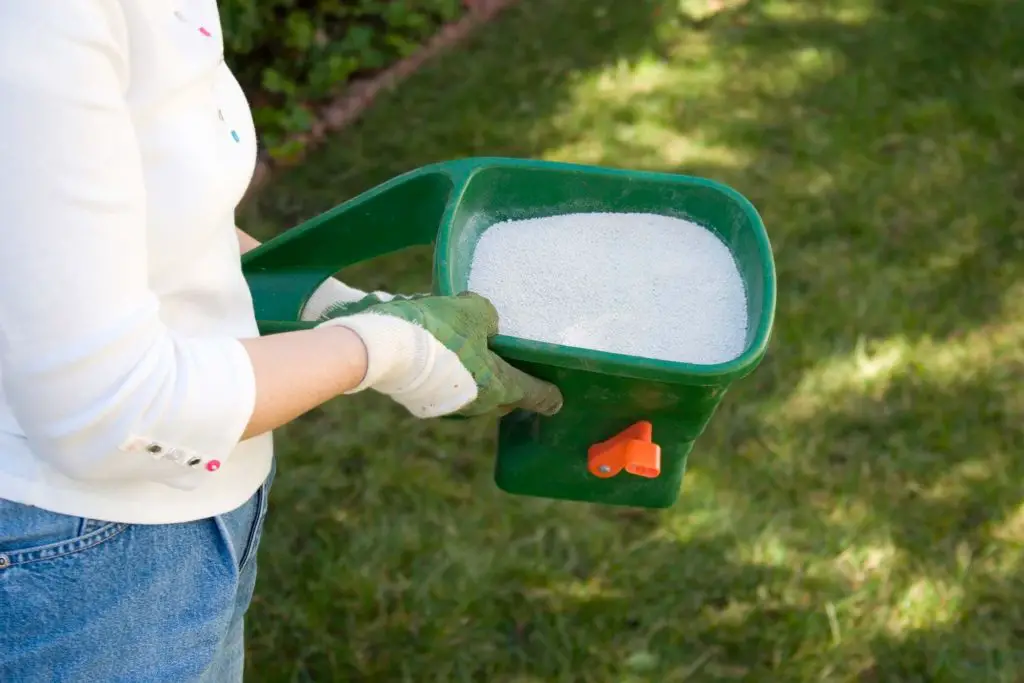 Why Choosing the Right Fertilizer is Important for your Bermuda Grass
Appearance
When fed the proper nutrients, Bermuda grass has the potential to be the most attractive kind of lawn turf. A rich, dark green color is always desirable and is difficult to achieve without an extra dosage of nitrogen. Following a good fertilization routine will also mean a more even-textured lawn, without bald spots or yellow patches. If your Bermuda grass is showing signs of distress or looking pale, make sure you are choosing a suitable fertilizer for your lawn and, just as importantly, take care to follow instructions and time it right. Fertilizing during dormancy can be detrimental, and all it will do is feed any weeds, giving them a headstart on the grass. Remember, dormancy can occur not only during the cold of winter, but also during a drought in high summer.
A Thicker, Healthier Lawn
Not only will the right fertilizer improve the look and color of your Bermuda grass lawn – but it will also keep the soil and roots healthy, promoting a thicker carpet of lawn that is more comfortable and attractive. A healthy root system is important for a healthy lawn. The thicker and stronger the grass grows together, the less room there is for unwanted guests. Lawn weeds such as crabgrass thrive in conditions where the grass is thinning and weak. In fact, weeds are less likely to invade a thick lawn, where there is no room for them to establish roots.
By fertilizing your grass with lawn food high in nutrients, you are feeding the organisms in the soil that help the roots absorb water, break down soil, and spread. Bermuda grass spreads two ways – through stolons, above-ground stems that grow horizontally, and rhizomes, which spread below ground. This means that fertilization will encourage and promote growth from all sides, defending against weeds and unwanted grass. Bermuda grass is often chosen for this characteristic. In general, Bermuda grass grows quite aggressively and requires regular mowing and watering.
Lawn Care made Easier
Despite this characteristic, providing Bermuda grass with extra nutrients will help keep growth under control and save you time and energy. Choosing a fertilizer that promotes root growth will actually mean less sprinkling time, as the grass will be able to better absorb water when it rains (or is watered). This is a key benefit to many southern climate lawn owners that experience droughts or hot weather. On the other hand, you may notice your Bermuda grass needs more mowing after fertilization. It is true the grass will grow faster and taller after being fed, but at least the lawn will be a more consistent length, without any short or long patches.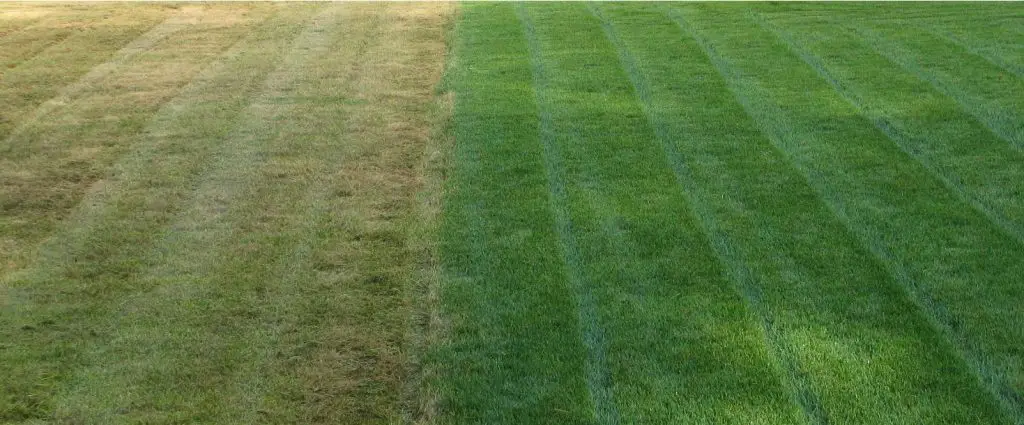 Expected Results
After finding the right fertilization schedule for your Bermuda grass, you will notice a lawn that is both greener and thicker than all of your neighbors'. Bermuda grass responds extremely well to extra nutrients in the soil and proper care, but it is important to keep it up.
Remember, if looking for fast results, use a liquid or water-soluble fertilizer that is high in Nitrogen. For longer lasting results, use a granular solution and lightly water in. Bermuda grass will react well to fertilizer all throughout its growing season.
A thicker, carpet-like lawn is not only beautiful to look at – it will develop its own defense system by crowding out weeds and other grasses. Now you know the secret to a darker, thicker lawn of Bermuda grass that will be the envy of the neighborhood.
We recommend products from companies like Amazon, which we also get a small commission from, to keep this website running. However, we want to stress that all of the products we recommend are tested, used by us, and 100% unbiased and true.