If you're fond of gardening, you might hear a lot of questions related to spray on grass seed. It is especially common during early spring when many people are curious or looking for the best flowers to plant in Spring in different US states.
In fact, you get to hear questions like "how does hydroseeding work? Should I buy hydro mousse? Does hydroseeding work better compared to sod? And the most important one, what is the best spray grass seed as seen on the TV"?
If you have the same questions in mind, know that Hydro Mousse grass spray is the best "spray-on grass seed." It comes with some great repairing agents to improve patchy lawns.  Plus, it can fix shades, high traffic areas, and dry spots.
Hydro Mousse
Hydro Mousse
However, if you have never used spray on grass seed for your landscape, here is a complete review to help you understand why you should use it.
Spray on Grass seed – What it is?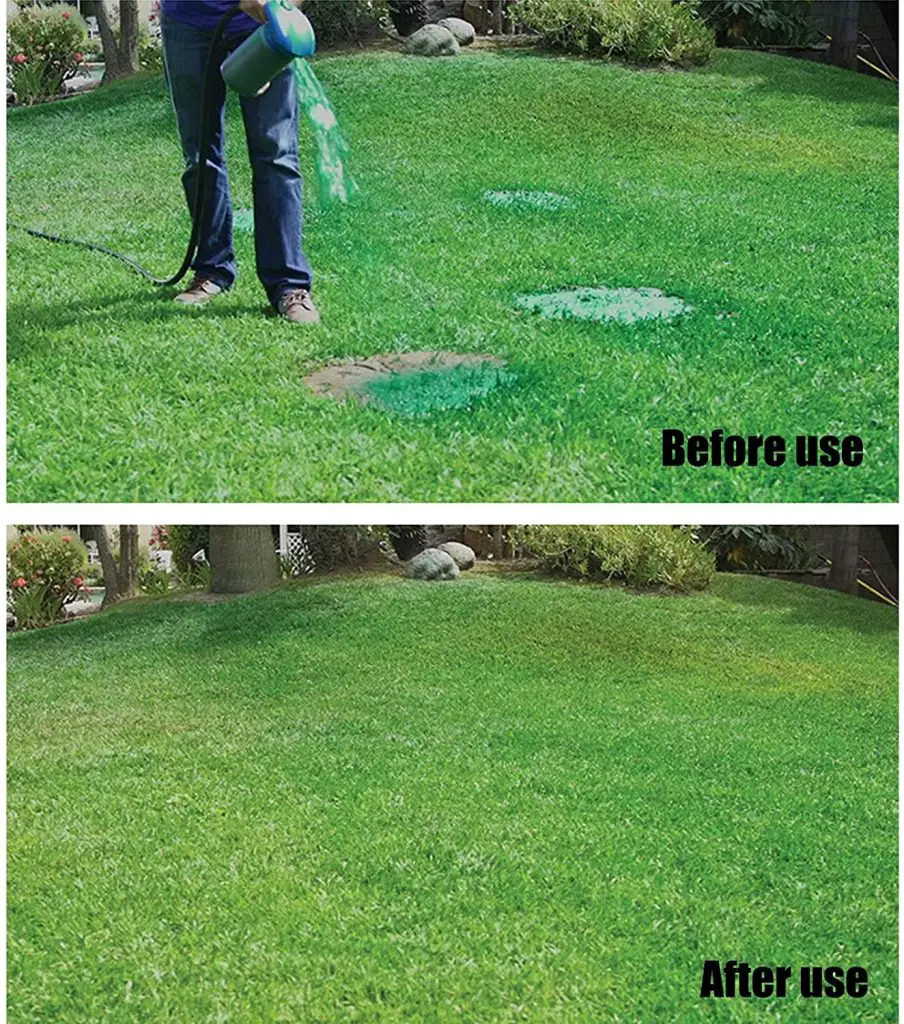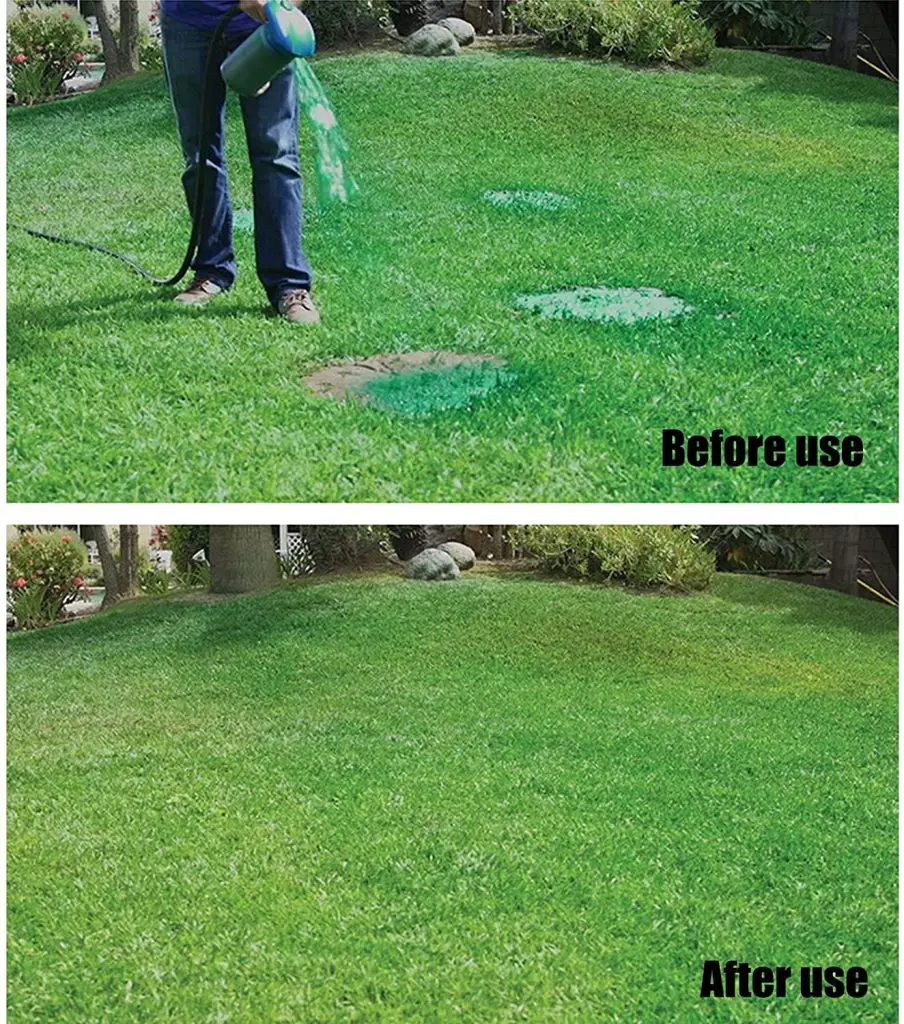 Before we plunge into the features of this method, let's understand what it is.
If you believe in traditional grass growing methods, you might not have used spray-on grass seed yet. Or you may think it is for professionals use only. However, it is not true.
Spray on grass seed, also referred to as "hydroseeding," is a method of spreading or dispersing grass seed using a commercially made pre-mixed liquid. It is more like using spray paint on your yard. The liquid is typically a "mixture" of;
water (mostly)
mulch
grass seed
bonding agent
Additionally, the mixture of spray-on grass is similar to "spray-on garden fertilizer." But it includes grass seeds that are small in size, allowing water pressure in the garden hose to spread through the garden. You might have seen many professional lawn caretakers using bigger hoses and pumps to do the job faster.
The hose's pressure gives grass seed good penetration into the lawn. It allows the grass to grow in better condition. If you've had experienced serious grass seed failure many times, you may want something that gives you an edge to improve the speed of grass growth.
Moreover, birds and other flying creatures don't like eating mulch components sprayed on the seed. This immensely helps baby grass grow without any risks. The spray method is a little more expensive compared to applying grass seed directly. However, it needs special tools such as a cast spreader or fertilizer.
Types of Spray on Grass Seed
Although the idea of using it is simple, making it yourself is not easy. You need to purchase the pre-mixed hydroseed and add water to it and create a slurry.  
Hydro Mousse Liquid Lawn
As mentioned above, hydro mousse is the popular option to buy. The DIY spray can cover more than 100 square feet. As it uses a mixture of different grasses, it is extremely versatile for many areas.
The Hydro Mousse liquid contains;
60 percent tall fescue grass
20 percent shining perennial ryegrass
10 percent boreal creeping fescue grass
10 percent shamrock Kentucky bluegrass
The spray-on grass seed, though an expensive option, may be the solution to many problems. It is excellent to fix spots when you run machinery or bulldozer in your landscape. It repairs the torn tracks on the ground. You can spray Hydro Mousse while walking along with your ripped-up lawn. The new grass will grow in a few days.
In the meantime, you can also use "heavy seed mode" when spraying this grass seed pre-mixture. The spray in heavy mode turns into a dark green shade and colors all the dirt patched into the same hue. It highlights the area that you have seeded already.
The 2lb bottle is refillable for reapplication. You may buy a canister to save money on an additional application.
Pros of using Hydro Mousse liquid;
Easy-to-use
Shows results within 2 to 3 weeks
Suitable for  improving and filling in patches from dog spots
Cons of using Hydro Mousse spray on grass seed liquid may include;
Requires plenty of soil preparation
leaves green stains on skin or clothes
Proper instructions follow up is required  for good results
more expensive compared to other agents
Are there any Hydro Mousse Alternatives?
Gavin's 3-in-1 Hydroseeder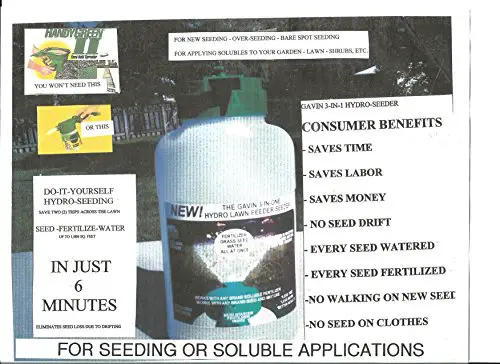 Gavin's 3-in-1 Hydroseeder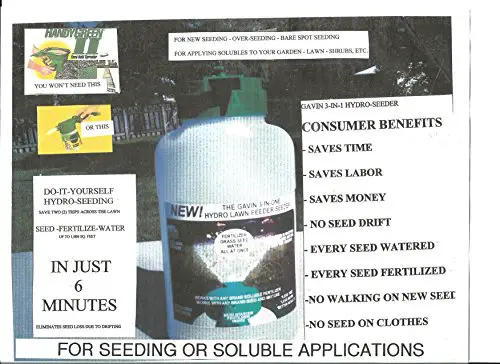 You may be surprised to find out that there are not many alternatives to quality Hydro Mousse. Many spray-on grass seed tasks seem taxing to people. That is why they hire professionals to do it.  
If you're trying to figure out what is the best spray grass seed or want the ones as seen on TV, you can trust Hydro Mousse as it has tons of positive reviews online from a landscaper who has used it. Gavin's 3-in-1 Hydroseeder and Hydro Shot are two alternatives of Hydro Mousse but the products are not widely available.
Hydroseed Rental
If you're a DIYer and have a large ground or lawn to cover, renting a hydroseed is also possible. You can either purchase or create hydroseed slurry and spray grass seed on the lawn. If you have never attempted the task before, it is not something an expert will recommend you to do without professional help.
However, you may get the hydroseeder rentals such as the Finn T-30 and T-60 hydroseeders. These can handle approximately up to 500 gallons of slurry. Keep in mind that they are large and serious machines. Using them casually without any research can be dangerous.
If you choose this route, you have to create grass slurry yourself using the combination of;
EZ spray hydraulic mulch
Tackifier (for keeping the mulch and seed in place)
Grass seed
Bio-Stimulant (natural fertilizer to improve  seed germination)
Dye (to find out where you have sprayed)
Spray on Grass Seed Tips
Always cove your hands by wearing gloves when you apply to spray on grass seed on the lawn and avoid contact with clothing and skin
Make sure to adhere to the right timing for seeds (with all grass seeds). For instance, avoid putting down the seeds if your area expects frost in the 45 days. October and November are the best months for the US.
Seeds take up to 2 to 3 weeks to sprout or germinate, so do not despair if there are no seedlings within the first 2 weeks
Follow the spraying and watering instructions. You generally want to give water to your yard 2-3 times a day in the beginning.
Hydroseeding only works best with freshly tilled soil.  When you use it on areas with patches, you get mixed success to tilled earth.
Summing Up
In a nutshell, spray on grass seed may have many benefits. The advanced seeding method protects the lawn soil from pests and erosion.   You can make your yard healthy and beautiful by using a high-quality spray on grass liquid.
You may also hire professionals to spray on grass seed to grow your lawn quickly. The method is excellent for hydroseeding and filling in the large patches and bare dirt areas. For small patches, use store-bought spray on yard seed.
For more articles on how to get a greener lawn, check out our lawn care section!
We recommend products from companies like Amazon, which we also get a small commission from, to keep this website running. However, we want to stress that all of the products we recommend are tested, used by us, and 100% unbiased and true.