Round cucumbers are a type of cucumber that comes in many different varieties. Some of the most popular types include the Mandurian round cucumber and the Lemon cucumber. Round cucumbers are generally smaller than other types of cucumbers, and they have a smooth skin. They are perfect to be eaten fresh or used in salads. This article will discuss all of the different varieties of round cucumbers and how to grow them!
Round cucumber varieties
There are three different varieties of round cucumbers, and each one has its unique flavor. The Mandurian round cucumber is a popular variety that is native to China. It has a slightly bitter flavor and a crisp texture.

The Lemon cucumber is another popular variety that, even though its name, doesn't have a lemonish flavor. Instead, they are slightly milder than other cucumbers. The last variety is the Apple crystal cucumber, and it is the sweetest out of all three. Not at sweet as the cotton candy grape though!
Apple Crystal Cucumber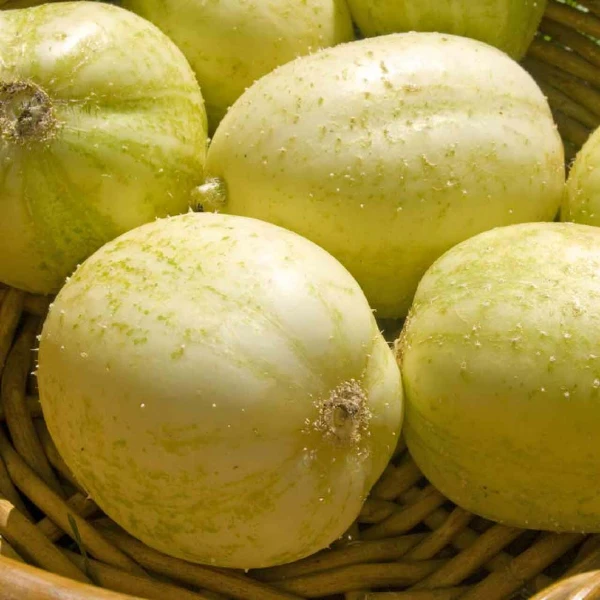 The Apple crystal cucumber is a variety of round cucumber known for its crisp, refreshing taste. Many wonders about the size and this variety grow to be about six inches in diameter and have a light green skin with a few minor bumps. The Apple crystal cucumber is a good choice for eating fresh or for using in salads.
Its botanical name is Cucumis sativus. The skin of an apple cucumber is white to light yellow-green, and the meat is white. In comparison to the typical cucumber, they are shorter and have a more rounded, oval form.
The apple crystal cucumber is usually grown in Europe or New Zealand.
Apple Crystal Cucumber FAQ
Lemon round cucumber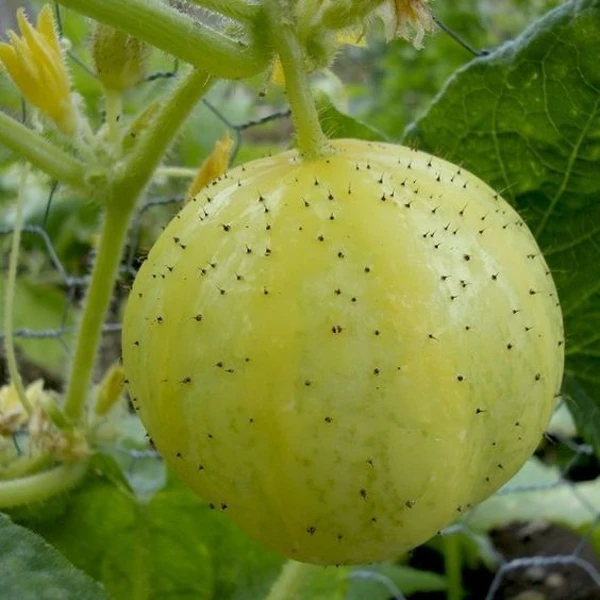 The Lemon cucumber is another variety of round cucumber that gets its name from its lemon-like shape and color. These cucumbers are about four inches in diameter and have a smooth, yellow skin. The Lemon cucumber is a versatile vegetable that may be eaten fresh or used in salads.
They have a fresh cucumber flavor that's a bit sweet and crispy. You'd think because of the shape, it's a part of the melon family, but that's not true. The botanical name for this fruit is Cucumis sativus.
How to grow a lemon cucumber
To grow this fruit, you will need: soil, water, a sunny spot, and a lemon cucumber plant or lemon cucumber seeds.
Fill a pot with soil and make a small hole in the center.
Place the lemon round cucumber plant or seeds in the hole and fill in the soil around it.
When planted, water the plant regularly and give it plenty of sunlight.
In a few months, you will have a delicious lemon round cucumber to enjoy!
Lemon Cucumber FAQ
Images of Lemon cucumber plants: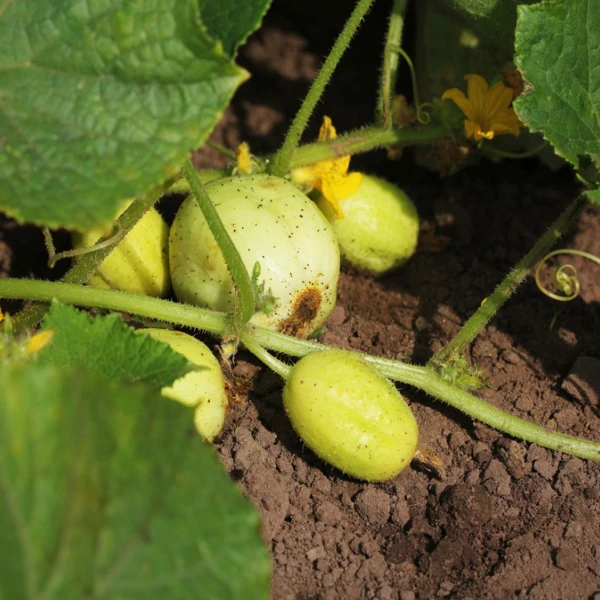 Mandurian round cucumbers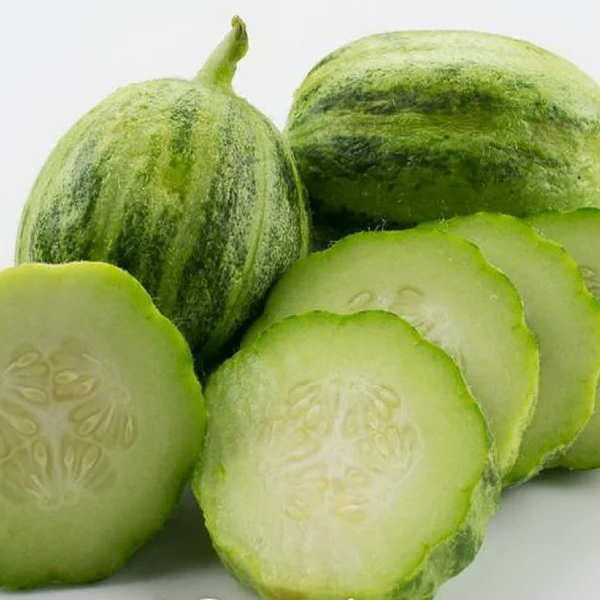 Mandurian is a type of cucumber that is native to Asia. They are characterized by their round shape and their dark green skin. They have a mild, fresh taste and are often eaten raw, and their botanical name is Cucumis melo.
The Mandurian round cucumbers are versatile vegetables that can be used in a variety of dishes. They can be sliced and served with a dip, diced and added to salads, or cooked and used as a side dish.
Consider adding Mandurian to your diet if you're seeking for a light, healthful veggie. They're high in vitamins and minerals, and they're a great complement to any meal.
Images of Mandurian cucumber plants:
How do you eat Mandurian round cucumber?
The best way to ingest a Mandurian big round cucumber is to cut it in half and then scoop out the seeds with a spoon. Once the seeds are removed, you can either eat the fruit as is or slice it up into thin pieces. Enjoy!
Another great way to enjoy Mandurian is by pickling them. To pickle cucumbers, you'll need to slice them into thin pieces and then add them to a jar or container along with some vinegar, water, salt, and spices. Let the cucumbers sit in the mixture for at least 24 hours before enjoying.
Mandurian round cucumber recipes
Try one of these recipes if you're searching for something new to do with your Mandurian round cucumbers.
Pickled Mandurian cucumber recipe:
Ingredients:
1 Mandurian round cucumber
1 tablespoon soy sauce
1 teaspoon rice vinegar
1 teaspoon sugar
1/2 teaspoon sesame oil
Instructions:
1. Start by slicing the Mandurian round cucumber into thin pieces.
2. Combine soy sauce, rice vinegar, sugar, and sesame oil in a small bowl.
Add the cucumber slices and let them sit for at least 15 minutes.
The longer they sit, the more flavor they will have.
Enjoy!
These pickled cucumbers are the perfect side dish for any meal. They are simple to make and can be made ahead of time. I prefer to prepare a large batch and keep it in the refrigerator so I always have some on hand. Give them a try the next time you are looking for something new to add to your meal!
Mandurian round cucumber and shrimp stir-fry recipe:
Ingredients:
1 Mandurian round cucumber, sliced
1/2 pound shrimp, peeled and deveined
1/4 teaspoon salt
1/4 teaspoon black pepper
1 tablespoon oil
2 cloves garlic, minced
1/2 cup chicken broth
Instructions:
In a large skillet or wok, heat oil over medium-high heat. Add garlic and shrimp, and cook until shrimp are opaque, about three minutes.
Add Mandurian round cucumber slices and chicken broth. Cook for a further two minutes, or until the fruit has softened.
Season with salt and pepper, and serve.
This shrimp stir-fry is a quick and easy meal that is full of flavor. The Mandurian round cucumbers add a crunchy texture and fresh flavor to the dish. If you're searching for a quick bite to eat, this is it!
I hope you enjoy these recipes! Let me know in the comments below if you have any other favorite ways to use Mandurian round cucumbers. As always, thanks for reading!
Round Cucumbers FAQ