The outdoor bathroom shed is pivotal if you like working from home. You need a proper space that you can call your office. Whether you have a 3 bedroom tiny house or own a 400 yards bungalow, you want a garden office that offers freedom, fresh, air, and peace. But is it enough to help you work peacefully, away from the entire city grind? 
If your work demands you to spend long hours in the office, you must have thought "can I put a toilet in my shed"?  Yes, you're thinking on the right track. Outside toilet shed is an integral part of your work-at-home arrangement.
Whether you're a startup or an independent consultant, you need a backyard office shed with a toilet and bathroom. In fact, an outdoor bathroom shed or a garden office with a toilet is as important for some people as having an internet connection or a phone.
Your guest bathroom is a perfect part of your home office as you can avoid interruption, distraction, and noise. "How to add plumbing to a shed" is the first concern that comes to mind when you think of an outdoor bathroom. Undeniably, it does require you're a lot of focus, patience, and smart planning.
So, if you don't want a building addition that sets you back or want a low-cost backyard office, we have you covered here.   
Fortunately, you can make a simple, convenient, and affordable outdoor bathroom shed for your backyard office.
An Office Shed with a Bathroom – An Overview
If an office shed seems low-brow to you, know that the term can help you specify and narrow down what you're looking for. Many people refer to them as "backyard office pod" which has a cooler sound connotation.
Given to the current scenario, you might want an office design equipped with the essentials that don't need any permits or days of planning.
An office shed with a bathroom is preferably the best bet that either you make it yourself (only if you're a pro) or have someone build for you.  But you must know the construction specifics for including a bathroom in your detached, tiny-office pod or shed.
This might sound surprising to you but creating a peaceful and separate office space with a toilet is all the rage nowadays.  A shed with bathroom comes in a variety of styles and sizes to suit your needs and budget.
It is because it is technically shed (and not separate quarter).You can easily install it on your garden without any hassle.  Here is a rundown of some ideas for your outdoor bathroom shed to include in the backyard office.
Bathroom in a shed – What are Your Options?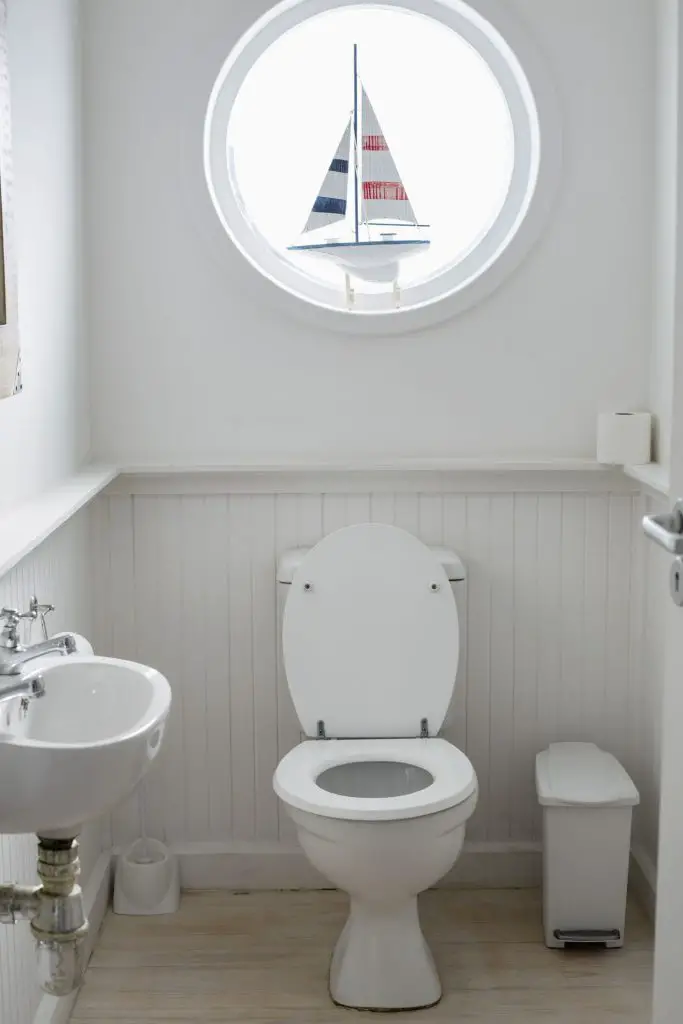 ·       Install a Half Bath
We understand that most people are not familiar with the concept of "half bath".  However, it is a common request when you want to improve your house's volume without having to compromise much of the space.  It is the bathroom type that is comfortable and convenient for people and doesn't interrupt their privacy.
And, installing a half bathroom in your backyard office is one way to solve the issue.  You can carve out space from the existing floor plan. However, you can use the following dimensions.
Dimension and Design
As you need to build a half bath in your outdoor bathroom shed, it need not be large. You have to find the space in the corner or at the back or find a spot in the shed that is about three to four ft wide and six to eight ft long.
You may keep it smaller than this, but make sure it won't be uncomfortable to access. Remember that space is a vital factor as you don't have any unused or extra space to build a house. 
Plumbing
Obviously, installing a half bath requires running water, ventilation, and drainage.  If you have a limited budget, we recommend locating the half bath close to sewer connections and the existing water system in the house.
In fact, it would be best if it shares a wall or pipe with a bathroom in your home. it is the cheapest option. If you have older construction, build over basement or piers, you can place a new plumbing line below the backyard.
You might need to do some jackhammering if you have a shed or garden house built on a solid slab foundation. It is important to patch the slab and connect a plumbing line to the new space. But it may add to the cost of the project.
Where possible, hook fixtures and sinks to the existing plumbing line. Because the backyard bathroom is used less frequently, choose delicate, visually appealing, and the best outdoor faucets or fixtures.
·         Frame a Partition Wall
Your second most convenient option to build a garden office with a toilet is framing a partition wall. Here your goal is not just to upgrade your shed or backyard office. Instead, your focus is on including a restroom without taking much of the office space. You can add decoration and drywall if you have a relatively larger backyard office.
Naturally, you can change the directions the way you want. It is always better to work with a design with enough room for a toilet or bathroom in the backyard office. You can include or frame a partition wall to have some extra space to contain a bathroom.
Partition Wall – Key Considerations
Framing a partition wall for a toilet right next to your working space is not ideal. However, due to limited space in the garden shed, consuming much space isn't always possible. You can try adding a tiny passageway. The passage may also have some cabinets or handy storage.
Don't forget to make a separate door for your office area's toilet. If you think this separation isn't necessary, you're mistaken. Taking this approach is one way to keep unpleasant odors coming from the toilet at bay. 
This is perhaps one reason why many people avoid adding a full-running bathroom in the shed. However, a floor plan that makes smart use of your backyard shed space can be the panacea to the problem. Use a passageway to store or keep units, documents, and other things by making shelves.
How Is It Different from an Outer Wall
While there is not much difference in a partition wall or an outer wall, a trimmer and header are mandatory in a partition wall. It offers additional support to the wall and cut.
Also, partition walls are excellent option for your outdoor bathroom shed. The idea allows you to have a functional bathroom, along with a nicely decorate passageway.     
·         Use a Waterless Composting Toilet
Looking for something that can help you get rid of water pipes?
Waterless composting toilets can do this job done. The modern yet unique and easy idea is feasible and practical whether you're working in your office garden or off-grid on a cabin.  This is, in fact, an ideal way to give a quick upgrade to your antique water-hog conventional toilet.  
A waterless composting toilet uses no water and doesn't require a connection to a sewer system. It works by enabling the natural decomposition process to occur. You can install a composting bathroom permanently with a ventilator to the outside space. 
The waterless composting toilet is all the rage for its portability as it is easy to set up, and you can move it to other locations. This feature, along with others, a waterless composting toilet, makes a great option for your outdoor bathroom shed. It is not only easy to install but also offers less mess and convenience.
While there is no authority that sets standard requirements for the products like these, some manufacturers acquire NSF International certification to install. It is an independent organization to verify consumer product meets basic standards such as;
Being odor-free
Handling the advertised capacity
Key Features of the Waterless Composting Toilet
Typically, a waterless composting toilet demonstrates the combination of solid, liquid, and carbon additives in a toilet. This initiates a process that breaks down or decomposes the solid waste into easy-to-dispose material.
 It is worth mentioning that, it is necessary to empty a waterless composting toilet after 3 to 4 weeks. Depending on your usage, it may start smelling if you won't empty it.
Best Waterless Composting Toilets as Your Outdoor Bathroom Shed
Self-contained Toilet by Nature's Head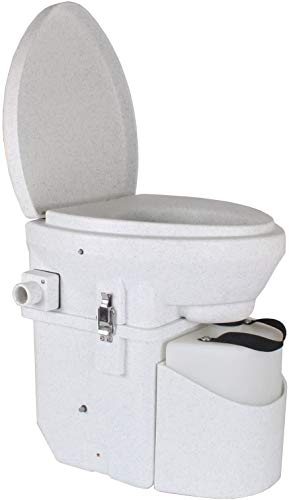 The self-contained waterless composite toile uses stainless steel hardware, a hose to the outdoor, and a powered built-in fan. It has a space-saving spider handle to operate the agitator and mix materials. Plus, a coco coir and peat moss work excellent as the bulking material, process, or substrate.
That means installing this waterless composting toilet in your backyard office is best to avoid the smell. Solid waste can go with at least 60 to 80 uses, while liquids need emptying every week.
Sun-Mar Compact Waterless Composting Toilet
If you want a waterless toilet with a medium capacity, this compact waterless toilet is affordable and has many varieties.
It works ideal for seasonal use and plugs into a 110-volt outlet. The model has a handle to aerate and mix the materials in the spacious three-chambered drum after using the unit.
However, the unit needs you to add some amount of bulking material per day. This easier-to-install waterless composting toilet eliminates septic issues.
Separett Villa 9215 AC/DC Composting Toilet
For a high-quality, all-around composting toilet, check this Separett Villa 9215. The waterless self-contained toilet comes with an electric fan to remove gases. The fan operates on 110V in a shed or on a 13V system in a motorhome. The model is incredibly lightweight and has only 34 pounds weight. That makes it easier to install.
The kit has the toilet and parts to direct vent and tie liquid drain. It also includes adapters for 110V and 13V power. Its tank is big enough to carry waste for three weeks which is more than you need in your garden office.
Sun-Mar CENTREX 3000 NE
Sun-Mar Centrex comes with a central composting system, and that makes it the best solution. It is ideal if you want a high-capacity composting toilet. The waterless composting toilet features a significantly larger system to get the job done.
Generally, the Centrex 3000 unit is non-electric that you can install in an off-grid application without much power supply. The unit has fully assembled parts and requires you to connect to a gravity flush toilet that uses 1 pint per flush.
How to Run Plumbing To A Shed
Having uninterrupted and running water in your outdoor bathroom shed comes with several benefits.   From saving your time to keeping the distractions, if you have a bathroom in the backyard office,  it makes life easier.
Thus, it is important to know how to plumb a bathroom in a shed to enhance or improve the functionality. If you overlook the plumbing installation, it may create a number of problems. Keep in mind that the plumbing process depends on the installation location in your shed.
Here are some tips to help you install plumbing based on your pipe placement.
Planning and Zoning
Checking whether local council provides guidelines you need to follow when plumbing. Plumbing with outdoor structure may result in many problems. Learn about the building regulations you must meet.  Find out how deep you can bury a supply line that runs from your home to workplace. Your area may have certain zoning laws and codes for depth to reach the underground.
Insulation
You also need to insulate the burying pipes to protect them from falling temperature.  It is always better to seek the services of a plumbing professional.
FAQs
Summing Up
Thus, outdoor bathroom shed for your garden office is worth investing time and money. The article explains how can you add a functional toilet in the shed and make your life easy.